Toast sweet potato
If you haven't tried it, you have to prepare. To avoid consuming gluten, you can substitute wholegrain bread for something else. A good alternative will be the toast of sweet potato! Combined with avocado, oil, egg or other ingredients such a toast may become a full dish.
How to make toast out of sweet potato?
It really is very simple. Preheat the oven to 200C. On a baking sheet place a lightly oiled sheet of parchment paper. Slice sweet potatoes (with a thickness of about 0.6 cm) and place it on a baking sheet. Bake for 13-15 minutes.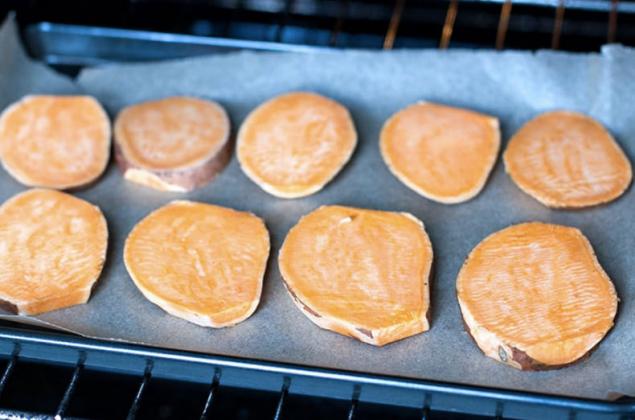 Something to add to this toast? Depending on what you want, you can make a toast salty or sweet.
Tuna
Quick tuna sandwich is an easy way to prepare Breakfast or lunch. Mix some tuna with mayonnaise and sprinkle with green onions or leeks for flavor.
Anchovies
The anchovies are not only meant for pizza. Slightly sweet roasted red peppers combine well with the salty taste of anchovies. You can also add fresh herbs or roasted tomatoes.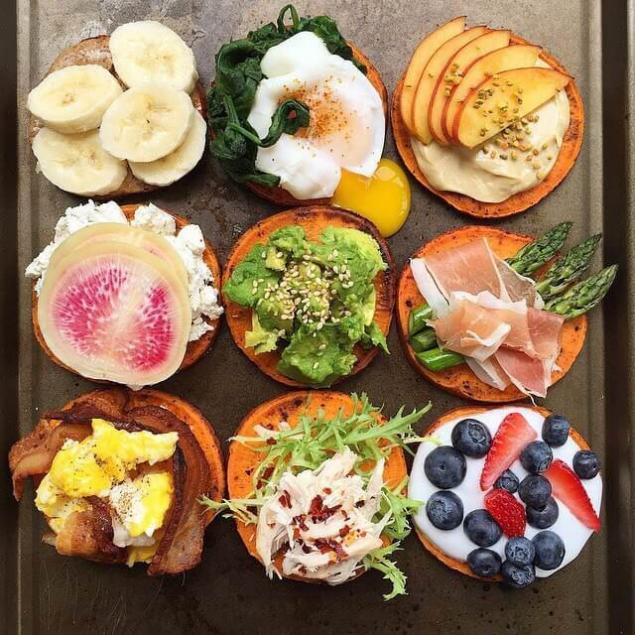 Egg salad
Like tuna salad, egg salad (or any salad from the major) — this is a wonderful dish that is often served with bread.
The connection of healthy fats and protein make these nutritious salads. But bread is better to replace the toast of sweet potato, which are not so heavy. This salad consists of hard boiled eggs, chopped and mixed with a teaspoon of mayonnaise, a pinch of sea salt and curry.
Mexican avocado
Make guacamole or just slice the avocado, sprinkle it with lemon and sprinkled with sea salt. Sprinkle with coriander or cilantro.
Poached egg and smoked salmon
This is one of the best combinations of Breakfast known to man. So why not make this dish even better? It's like egg Benedict, but more useful. Add more avocado to make the perfect toast.
Peas, smoked salmon and feta cheese
Crushed peas sprinkled over feta, smoked salmon, add fresh herbs. What could be better?
Pesto
Pesto has a very bright flavor. So the toast with this sauce does not require any additional ingredients.
Tahini and arugula
Sweet potato toast is a great base for a tahini and a handful of spicy arugula.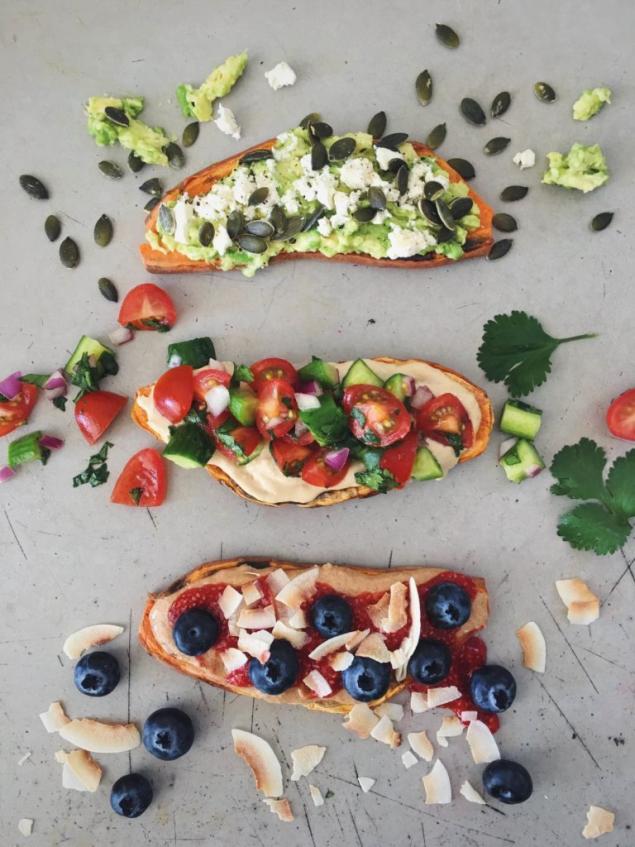 Sweet toast Coconut cream and strawberries
Coconut cream or coconut oil are well combined with ripe berries and sweet balsamic vinegar.
Almond butter and bananas
We have bananas and almond butter for another sweet version of French toast.
Almond butter and fruit
Almond butter, chopped dates and coconut. Need I say more?
Enjoy!
Cook with love!    
P. S. And remember, only by changing their consumption - together we change the world! ©
Source: online-detox.com/articles/112183-11-voshititelnyh-idey-dlya-tostov-iz-sladkogo-kartofelya