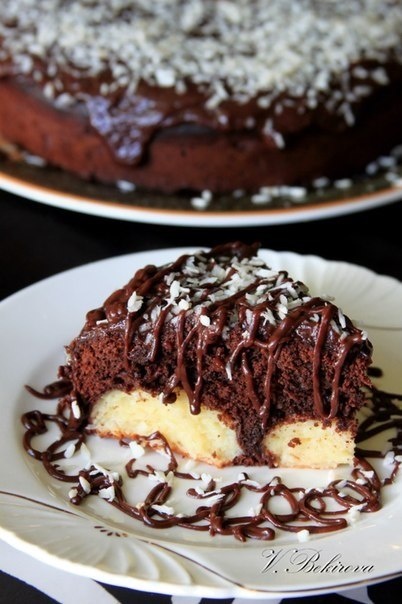 For cheese balls:
250 grams of cheese
half coconut pulp
2 egg yolks
50 grams of powdered sugar
1 5st.l.krahmala.
For the dough:
4st.l.kakao
0 5st.l. ground coffee
100 grams of butter
2 eggs
70 grams of sugar
40 grams of brown sugar
100 grams of flour
1 5ch.l.razryhlitelya.
First, prepare the balls:
Mix all ingredients (coconut previously rubbed on a fine grater) .Razotrёm spatula until odnorodnosti.Gotovuyu mass uberёm in the refrigerator.
Now prepare the dough:
Cocoa, coffee, oil, and both types of sugar until smooth finish over medium heat, stirring constantly. Cool. Beat eggs until splendor, gradually add the chocolate mixture, whisking. Mix flour with baking powder and sift into the egg-chocolate mass. Stir.
Forming a mixture of cottage cheese balls. Spread the balls to form a short distance from each druga.Sverhu fill the prepared dough. Bake in a preheated 180 oven for about chasa.Gotovy cake cool, topped with chocolate icing and sprinkle with coconut.
Bon Appetite !!!