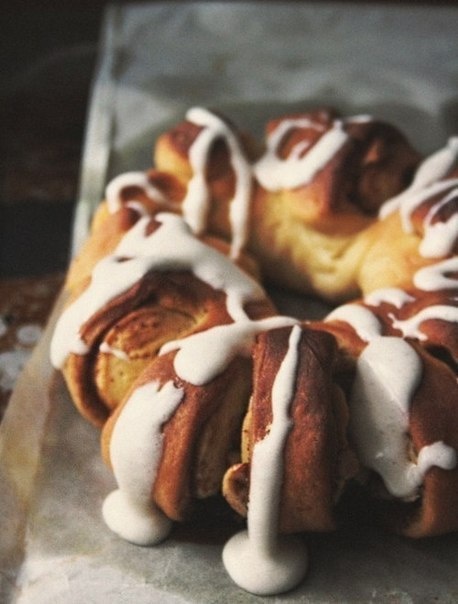 Ingredients:
Milk - ½ cup
Sugar - ¼ cup
Butter - 60 g
Yeast - 1 package + 1/8 cup warm water
Flour - 2 cups
Salt - ½ teaspoon
Filling:
Butter - 1 tablespoon
Brown sugar - 1/8 cup
Sugar - ½ tablespoon
Cinnamon - 1 teaspoon
Extras:
Raisins - ½ cup
Nuts (cashew / almond) - ¼ cup
Heat the milk in a saucepan (not boiling). Remove from heat, add the butter and sugar and stir until sugar is dissolved. Mix prepared with yeast and salt. Gradually add flour and knead the dough. Porazminayte his hands for 7-10 minutes. Put the ball of dough in a bowl, greased, cover with a towel or plastic wrap. Leave for an hour, the dough has risen by about half.
Arms stretch the dough on a flat surface. Lubricate the softened butter. Mix 2 kinds of sugar and cinnamon and sprinkle the dough with this mixture. Put the raisins and orehi.Skrutite dough into a roll, fasten the edges in a vicious circle and transfer to a baking sheet, greased. Scissors, make cuts and lightly spread the dough to open the filling. Pie close with cling film and leave in a warm place for 40 minutes, an hour for the second lift. The dough should still grow in size. Preheat oven to 175 degrees. Brush with butter cake all over the surface and bake in the oven for 25-30 minutes. Remove and cool.