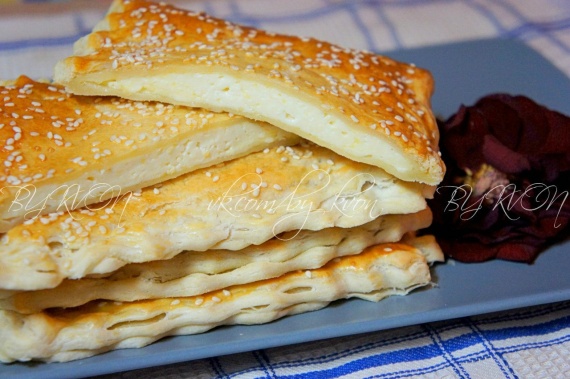 To prepare the cheese puffs you need (Serves 4):
500g puff dough;
300g Adygei cheese;
100g hard cheese;
1 egg;
1-2 tsp sesame;
1 tsp vegetable oil (for lubrication).
Cooking.
Prepare cheese filling for puffs. To do this, both cheese grate, mix. Stuffing divided into four parts and each form of "cheese ball».
The dough is thawed and cut into 8 equal parts. Each part of the same roll, but not too thin. In the center put the cheese balls, a little trample his hand, cover the other half of the dough, the edges tightly huddled together, gently roll the puff. As a result, you should get four puffs. At each fork to make a few pinholes, so that the dough does not swell during cooking.
Heat oven to 200-220 degrees. Spread out on a baking sheet baking paper, brush it with oil using a brush confectionery. Puff grease with beaten egg and sprinkle with sesame seeds. Bake puff with cheese 20 minutes. When baking, do not open the oven (!).
Delicate and concealing mouth cheese puffs ready.
Enjoy your meal! Eat with pleasure!