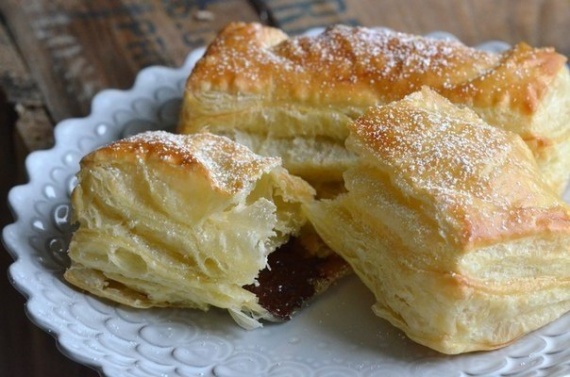 Ingredients:
Puff pastry 500g;
Chocolate 200g;
Eggs 1 piece;
0.3 cups of powdered sugar;
Preheat oven to 175 ° C.
Puff pastry thawed at room temperature. Chocolate cut into small pieces.
Sprinkle with flour. Lay out the puff pastry, roll it out a bit. The dough is cut into equal squares.
At the middle of each square to put 2 tablespoons chocolate chips. Lubricate the edge with beaten egg. Cover with another rectangle of dough. Zaschipat edge serrated fork.
Puff pass on a baking sheet, brush with beaten egg. Bake for 15 minutes until golden brown.
Cooled puffs with chocolate sprinkled with powdered sugar.