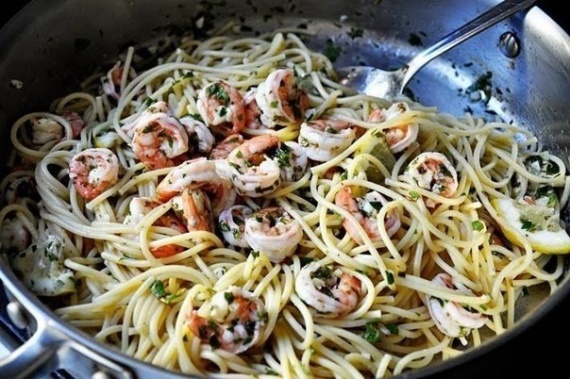 Ingredients:
Spaghetti - 340 g
Butter - 2 tablespoons
Olive oil - 2 tablespoons
Garlic - 4 cloves
Shrimp - 500 g
Salt and pepper - to taste
Parsley - 1/2 cup
Lemon (juice) - 1/4 cup
Lemon (slices) - 1/4 piece
Red pepper flakes - 1/8 teaspoon
Preparation:
1. In a large saucepan, bring water to a boil. Season with salt and add a few drops of olive oil. Throw the spaghetti and cook according to package instructions.
2. Finely chop the garlic. Squeeze the juice of a lemon. And 1/4 lemon cut into quarters.
3. Juice and lemon slices Put in a bowl. Wash and finely chop the parsley.
4. Add the red pepper flakes. All mix.
5. Melt the butter. Add the garlic and podtushite about minutes. Put cooked peeled shrimp, salt and pepper. Cook for about 5 minutes until the shrimp have acquired a pink ottenka.Snimite with fire.
6. Then add the parsley and lemon. Drain the pasta and transfer to a pan with the shrimp. Mix thoroughly.