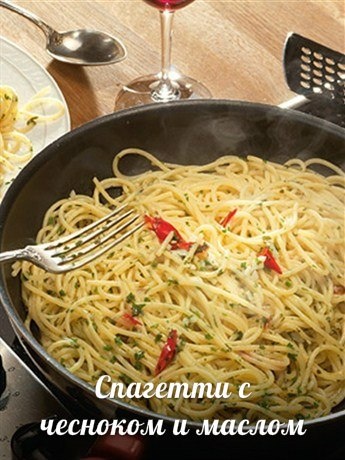 Ingredients:
Spaghetti 500 g
Garlic cloves 8
Chili 2 pieces
Parsley 50 g
Olive oil 100ml
½ lemon pieces
Salt to taste
Ground black pepper to taste
How to:
1. Put the spaghetti and cook somewhere for five minutes until cooked spaghetti raskochegarte pan, pour olive oil into it and fry in olive oil, crushed garlic and chopped chili large chips. Once the garlic is softened, add the finely chopped parsley, stir and remove from heat.
2. Once the spaghetti cook until al dente state, drain the water and dumped the spaghetti to the pan fried with garlic, pepper and parsley.
3. On a low heat then this mixture for half a minute, stirring constantly, add the juice of half a lemon and zest of half a lemon, salt, pepper and stir. And serve.
It is the minimalist and most dietary option pastes.