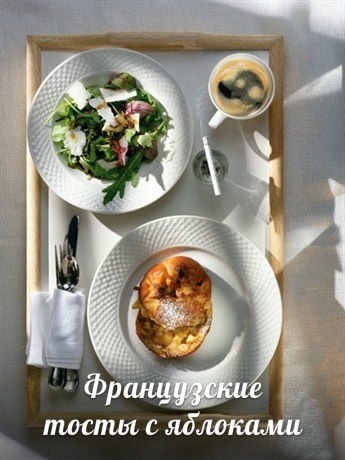 Ingredients:
Melted butter 50 g
Brioche 1 piece
Eggs 1 piece
Sugar 1 teaspoon
Cream 50ml
Apples ½ pieces
Cinnamon to taste
Walnut ground nutmeg to taste
Powdered sugar to taste
How to:
1. On melted butter fry the finely sliced ​​apples until soft, sprinkle with sugar and cinnamon and cook for another minute, until the sugar is absorbed into the apple and cinnamon flavor has infiltrated all around.
2. Put the apples in a bowl. Cut the brioche into halves. Lightly beat the egg with cream and a pinch of nutmeg. Soak in this mixture half brioche and fry them in the same pan, where the grilled apples, until golden brown. This is, in fact, will be French toast.
3. Share on toast fried apples, sprinkle with powdered sugar, and in the case of an extreme love for a pleasant smell - and even cinnamon.