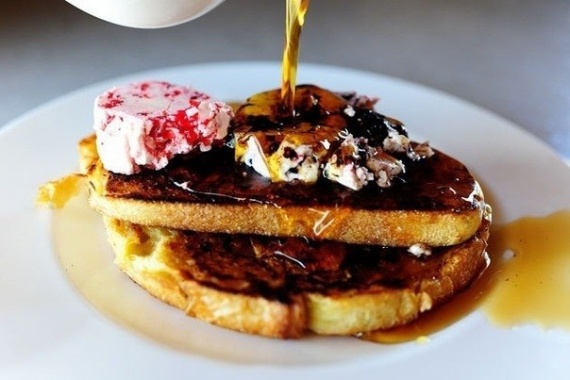 Ingredients:
Butter - 250 g
Raspberries - 1/2 cup
Blueberries - 1/2 cup
French baguette - 1 pc
Egg yolks - 4 pcs
Sugar - 1 tablespoon
Vanilla - 1 teaspoon
Lemon peel - 30 g
Divide the butter into two equal parts. One part in a mixer, beat on medium speed.
Add the raspberries and sugar in a mixer.
Whisk until smooth consistency.
Another part of the oil whip with blackberries, until homogenous.
Each berry-creamy mixture in the form of sausages lay on plastic wrap. Wrap as shown in the figure and set to cool.
Take the egg yolks, add the milk and whisk together.
Cut French baguette toasts and dip them in the egg.
Then fry until golden brown. Spread on a plate.
Cooled berry-cream sausage cut into slices.
Toasts are ready. At the end of any syrup can be poured, in this case, a caramel.