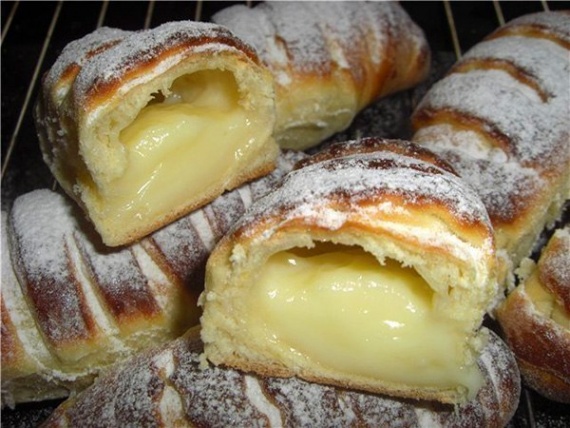 Ingredients:
For the dough:
 - 375 g flour (previously sifted)
 - 5 g of dry yeast (15 g or alive)
 - 75 grams of sugar
 - 1/3 h. L. salt
 - 12 g of powdered milk (or soluble coffee cream)
 - 40 g melted butter
 - 1/2 h. L. lemon peel  
 - 1 small egg
 - 195 ml of water (or milk, or a mixture of milk and water 1: 1)
For the cream:
 - 350 ml milk
 - 2 egg yolks
 - 2 full article. l. cornstarch (or flour)
 - 4 tablespoons sugar
 - Zest of 1/2 lemon, cut a ribbon
 - Vanilla or vanilla sugar to taste
 - 40 g butter
 - 50 g of sweet almond and bitter almond 1 roast and grind in a blender
 - 1 tbsp. l. lemon juice
Preparation:
1. Prepare the dough:
Mix all dry ingredients: flour, cream (milk), yeast, sugar and salt. Whip the egg with a fork and combine with water and gradually introducing into the flour mixture, knead the dough. Add zest and butter in the dough vmese.
2. The dough turns sticky, but do not add more flour. Cover the dough and put polotenechkom approach, approximately 2 hours.
3. Prepare the cream:
Dilute the starch in the milk, add the egg yolks, sugar, vanilla, zest and put to boil over medium heat, stirring constantly (Ready cream starts to gurgle).
4. Cool, add the butter, lightly beaten and adding almonds and juice, stir.
NOTE. You can cook and chocolate "Parisian", replacing the test 2-3 tbsp. l. flour for cocoa powder.
In this case better to add cream for butter chocolate.