The Caesar salad is one of the most popular salads in the world. Typically made with chicken, but the variation with shrimp also has many fans.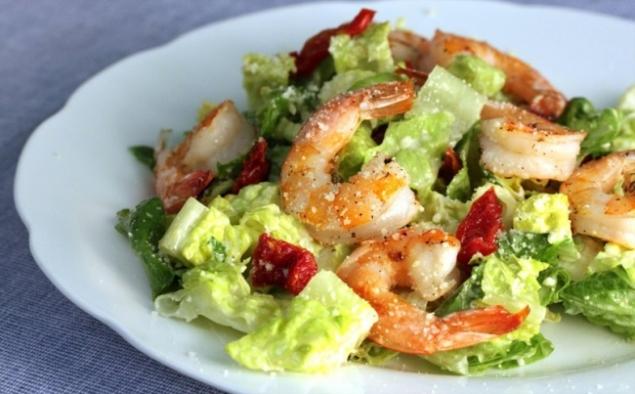 I love the "Caesar" with chicken? Try the Caesar salad with shrimp! Photo: i24women.com  
Salad recipes are varied, but the classical Foundation of the lettuce, wheat croutons and cheese.
Some useful tips • Add at the same time with shrimps marine fish salted or smoked poultry. You will receive a brand new dish that will appeal to both adults and children.
• Choose cheese with lower fat content and bread of bran, and your dish will be much healthier and healthier.
• To give Italian flavor you can buy or bake ciabatta and add Basil.
• Instead of lemon juice take Apple cider vinegar, the taste of the salad will be more delicate and thinner.
The RECIPE of SALAD "CAESAR" WITH SHRIMPS
:
1 package of lettuce (ideally use Romaine)
1 kg of shrimp
200 g of cherry tomatoes
100 g of Parmesan or any hard tasty cheese
1 bread – for croutons
1 clove of garlic
olive oil
Sauce:
3 eggs
2 tbsp lemon juice
1 tsp mustard
1 clove of garlic
salt
the mixture of peppers
How to cook salad "Caesar" with shrimps:
1. With a loaf cut off a crust, and crumb chop or break into small pieces and serumaga in the oven, preheated to 200°C.
2. In a frying pan with a thick bottom heat the oil and put finely chopped garlic to add flavor based sauce and crackers. No need to bring the mixture to a boil – it will lose the attractiveness and utility. Better warm it at a low temperature.
3. After 10 minutes remove the garlic and pour the prepared croutons. Hold the pan until it will turn brown.
4. Tear with your hands or very coarsely chop the lettuce.
5. Shrimp boil and cool.
6. Boil eggs and divide the whites and yolks.
7. For the sauce, mash the yolks and olive oil with a fork. Add the lemon juice, salt and pepper. Enter mustard and garlic passed through the press. Mix.
8. On a large serving platter place lettuce, then halved cherry tomatoes, chopped protein and shrimp. Gently spread the croutons and sprinkle with grated cheese. Cover with the sauce.published  
P. S. And remember, only by changing their consumption — together we change the world! ©
Source: domashniy.ru/