Soon the meatballs of cod
Tasty, fast and inexpensive. Cod is a very useful and low-fat fish, which will make such delicate fish pancakes.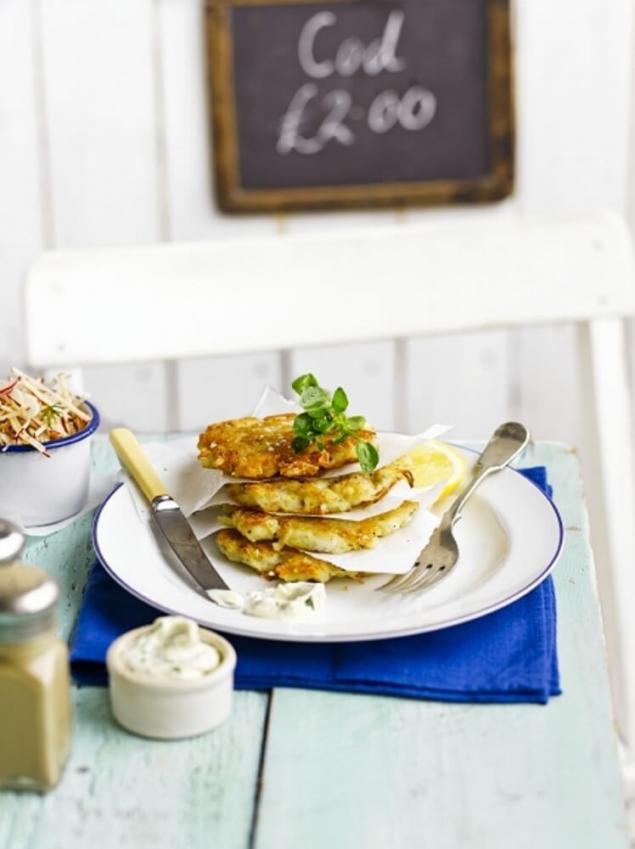 For 4 persons you will need:
— 500 cod fillet without skin, you can take any other marine lean fish
— 4 tablespoons of flour
— olive oil
— 2 tablespoons chopped herbs (tarragon, bartuska, etc.)
— 200 ml mayonnaise
— 250 g of potatoes  
Chop the fish fillets, peel and grate the potatoes on a grater, mix with hands, adding flour, salt and black pepper.
Hands form 12 flat patties and leave to steep in the fridge.
Carefully heat the oil in a deep frying pan, keep the flame medium-high. Fry patties for 2-3 minutes on each side, turning them over, until they become Golden. Place them on a paper towel which will absorb excess fat.
Chop the greens, mix with mayonnaise and serve meatballs.  
Salmon with summer vegetables and pesto sauce
Salmon is very rich in nutrients, it goes well with potatoes and pesto.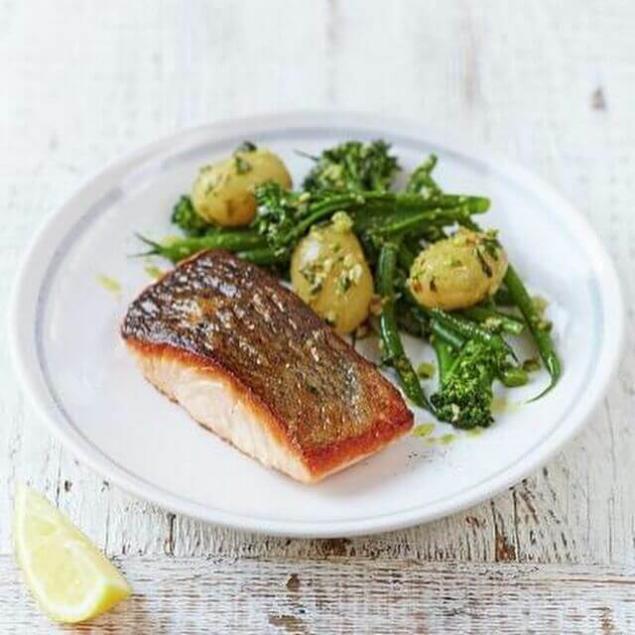 For 4 persons you will need:
— 600 g potatoes (preferably young)
— 200 g green beans
— 200 g of broccoli
— 4 salmon fillet 120 g
— olive oil
— 1 lemon  
For pesto:
— 25 g pine nuts
— 1/2 head of garlic
— 50 g fresh Basil
— olive oil
— 15 g Parmesan
— 1 lemon  
Keep in mind that this pesto is prepared in a mortar, where all the ingredients you need to pound with the pestle. And not in a mortar, and marble from Carrara. You can use a blender.
Fry nuts in a pan without oil until Golden brown. Separately clean the teeth of garlic and chop them in a blender with salt and black pepper, Basil and nuts, add butter, grated Parmesan and a little lemon juice, if needed.
Then the case for vegetables: it is better to prepare on pair or to boil.
Salmon fillet put in fairly hot pan with sufficient oil and fry for 4 minutes on each side.
Carefully drain the water from boiled vegetables, put them in a deep dish and mix them with the sauce.
Serve the fish and vegetables as a side dish.  
Breakfast of Irish mackerel
Rumor has it that the mackerel and mackerel — are one and the same. This fat, is a very useful fish is found in the cold waters of the North Atlantic, where it has long been fished by Irish fishermen. Probably so many that it even eat Breakfast. And we will try.
For 2 people you will need:
— 2 mackerel fillets
— 2 large eggs
— 2 large slices of bread
— olive oil
red wine vinegar
— a few cloves of garlic  
Boil salted water in a deep pan and cook mackerel fillets until tender, in another pan with oil, fry the egg so that the yolk was still a little fluid.
Of bread make toast, drizzle with oil. Put the toast on a plate, on top place the fish, a few drops of wine vinegar, and top with the egg. Sprinkle chopped garlic.  
Panzanella shrimp
Panzanella is an Italian bread salad. Will try to do it with shrimp. For this we need one more exotic ingredient: spicy jalapeno pepper, which is cut and mixed with olive oil and white wine vinegar.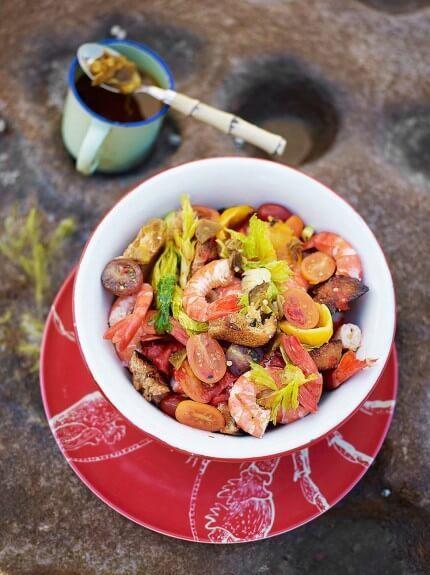 For the salad you will need:
— 16 large cooked and peeled shrimp
16 cherry tomatoes, cut in half
— 1 handful of celery tops
— 3 young onions sliced
— 1 red and one yellow bell peppers roasted and peeled, cut into strips
— 3 large loaf of bread "ciabatta", dried, grilled and chopped coarsely.  
Mix all ingredients with the dressing, leave to rest for 10 minutes, and then—!  
Spaghetti with mussels
Yes, of course, Jamie is referring to the "spaghetti alle vongole" clams-venerque, which we have hard to find. But we are easy to find mussels, which are called in Italian "cozze" and, of course, I can't really replace the "clams", but also very-very good with spaghetti.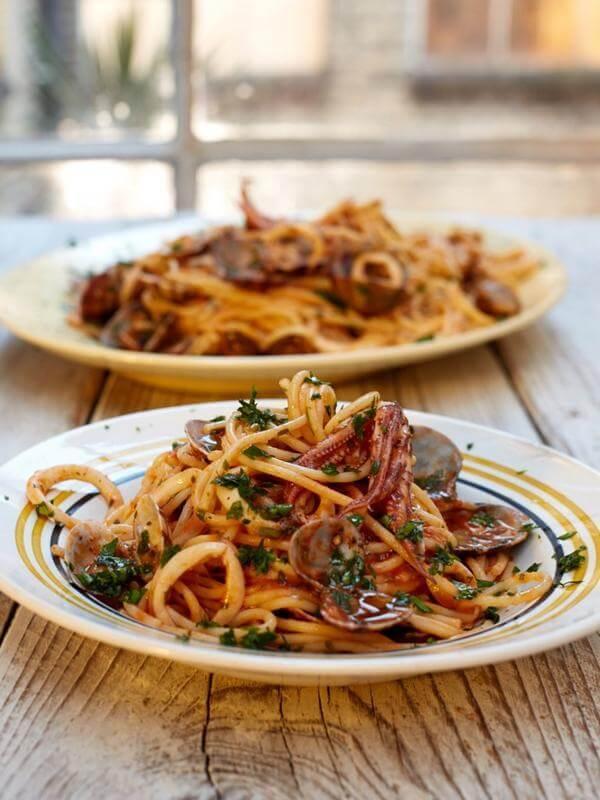 All you need for four is:
— olive oil
— 400 g of tomato pulp (or buy an Italian I went home-made di pomodoro, or take a thick tomato juice. Never use tomato paste)
Sol
— ground black pepper
— 500 g of spaghetti
— a bunch of parsley
— 1.5 kg clams (with shells!)
— 100 ml dry white wine
— olive wine
— 4 fresh pepper-chili (always remember the Tabasco)  
"Obcordate" on the grid hot peppers to black, then remove the skins, remove the seeds and finely chop.
In a skillet over medium heat heat the oil, throw the garlic, but in any case not sacarifice it.
Add chili and tomato pulp, bring to a boil, then reduce the heat and boil for five minutes, add salt and pepper your sauce "arrabbiata" is ready.
Mussels or clams that we find, cook in salted boiling water until tender. Drain the mussels are ready.
Separately in a frying pan heat the oil, add the garlic, chicken, shellfish, wine, and two spoonfuls of your sauce, a good cook, so the wine has evaporated.
Separately cook spaghetti and mix with the clams and "arrabbiati".  
Bon appetit! Cook with love!  
Also I wonder: a Simple recipe of gingerbread from Jamie Oliver's 40 best cooking tips from Jamie Oliver
Source: womo.com.ua/morskoe-menyu-ryibnyie-blyuda-ot-dzheymi-olivera/