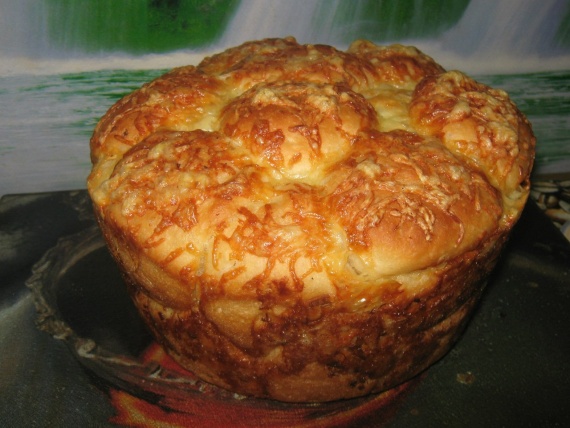 Dough:
250 ml warm water.
sugar 2/3 tablespoon
salt 1 tsp
dry yeast 5/1 tsp
flour 350-400 g.
for the filling:
butter 70 gr.
salt 1/3 tsp
3-4 cloves of garlic
hard cheese 50-100 gr. (It took me 50 gr., A thick layer of not strew)
Knead a soft dough, adding ingredients in odnomu.Otstavit aside for the preparation of the filling.
Nachinka.Maslo melted, add salt and finely chopped garlic.
Grate the cheese on a fine grater.
Next dough into small balls, no larger than walnut oreha.Kazhdy ball dipped in butter (with salt and garlic) and spread in the form at the bottom, one layer of balls sloem.Posypat syrom.Dalee put a second layer of beads in oil, sprinkle with cheese again y I went 3 sloya.Mozhno put in 2 layers, despite what the baking dish.
Put our bread in a warm place for an increase in obёme.U proofing took me 30 minutes.
Bake the bread coming up at 180 degrees about 30-35 minutes.
If the top starts to rapidly reddening, cover the top with foil.