The cheese goes well with almost all products: meat, vegetables, bread, pasta and even porridge. By purchasing an impressive piece of Parmesan cheese, you will not lose: it will be possible to add up everything in order to improve the taste of your favorite dishes. Cheese is beautiful in itself, proof of that - the original recipe, where it is the main, decisive ingredient. The molten and malleable, toasty and crisp - the cheese is equally good in any state. The old man Monty from such recipes would absolutely mad ...
1. Cheese Wonton
Wonton - is Chinese dumplings. For their preparation you will need a puff pastry. Make envelopes of dough into each put a piece of cheese. Now the fun part: Wonton fry in hot oil until golden brown. Serve this delicacy is best with honey-mustard sauce.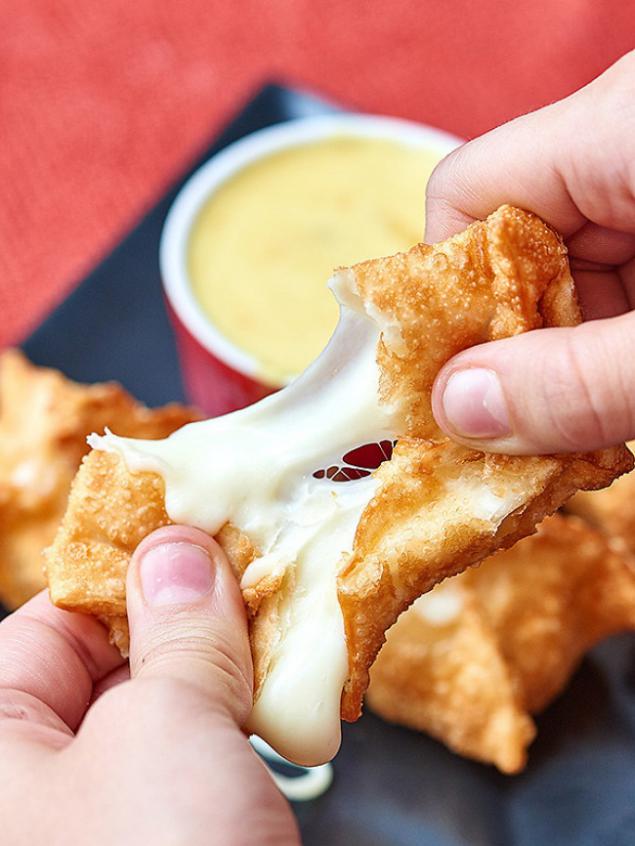 2. Pasta with spinach
Decoction of pasta. We will cut fresh spinach and artichokes, the more green the better. Add in herbs 3 cloves garlic, chopped into small pieces. The pasta with greens add Parmesan cheese, grated Swiss cheese, mozzarella and cream cheese - cheese amount is calculated according to how much you have pasta. Laid out in the form of mass, zaley all that cream and bake in the oven for 30 minutes.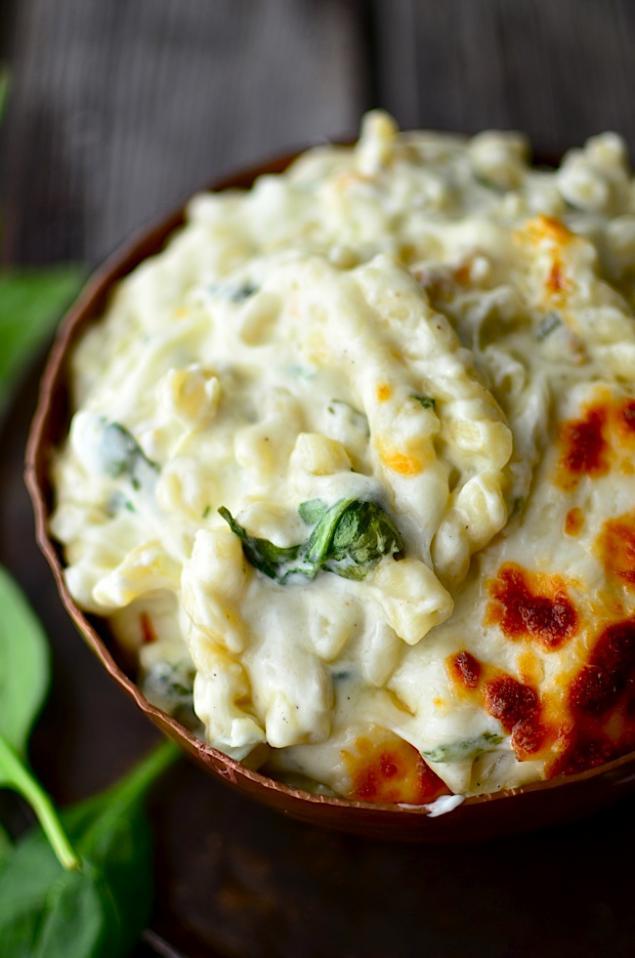 3. Pasta with mozzarella
Decoction of pasta. In a large saucepan with a thick bottom pour a little olive oil and fry on him grapes, tomatoes and tomato paste. Add to this mix a little milk, pasta laid out. Several balls of mozzarella cheese Place the top of the pasta, close the lid on the pan a few minutes, let the cheese melt. In the finished dish, you can add the basil leaves and mint - for a bright flavor and decoration.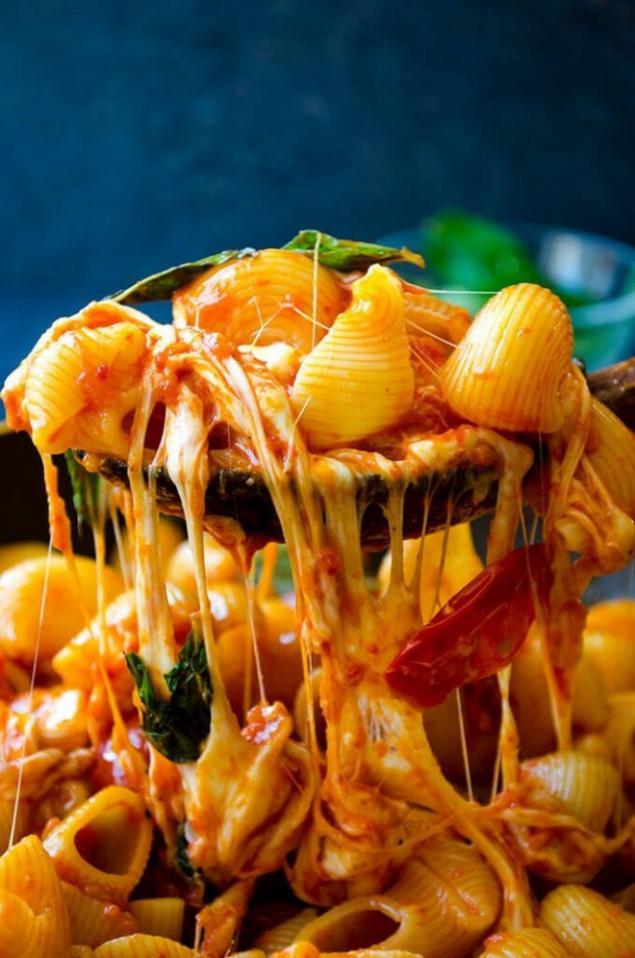 4. Cheese fondue
Gouda cheese and Swiss cheese we shall cut cubes. Mix up cubes with cornstarch and pepper. Fondue pot with garlic and pour sodium to 1, 5 cups of dry white wine and a tablespoon of brandy. Heat the liquid over medium heat, when heady base begins to boil and add the cheese. Slowly stir the masses. At the end of everything tucked nutmeg and pepper. Fondue perfectly with croutons and fresh pastries.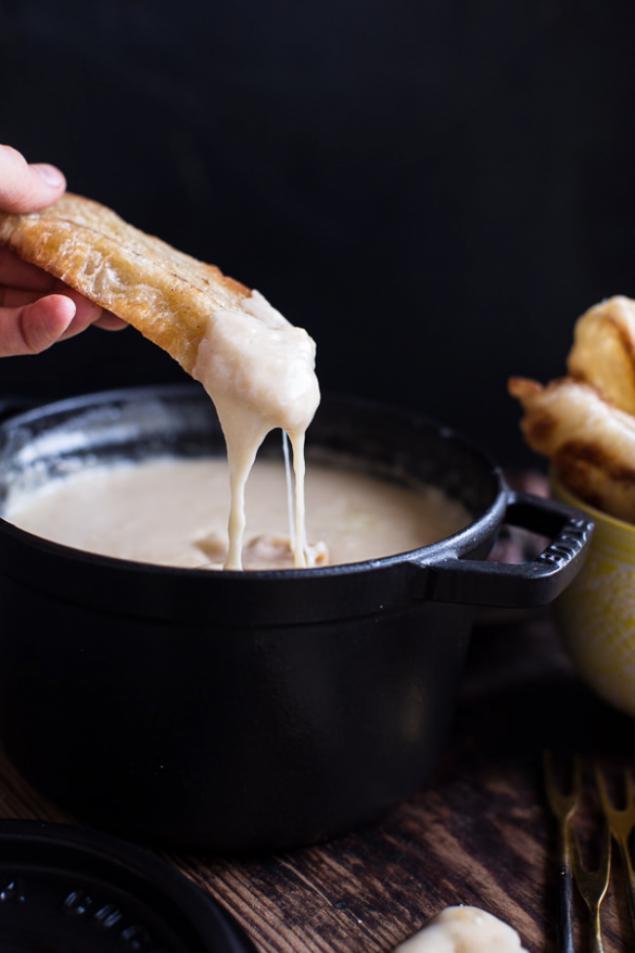 5. Cheese balls
Prepare fresh dough. We shall cut it squares inside each square put a piece of cheese. In a bowl, mix the melted butter with garlic, the other - with chopped parsley and grated parmesan. Perches balls in butter, then into the cheese mixture, put on a baking sheet. Bake until lightly browned.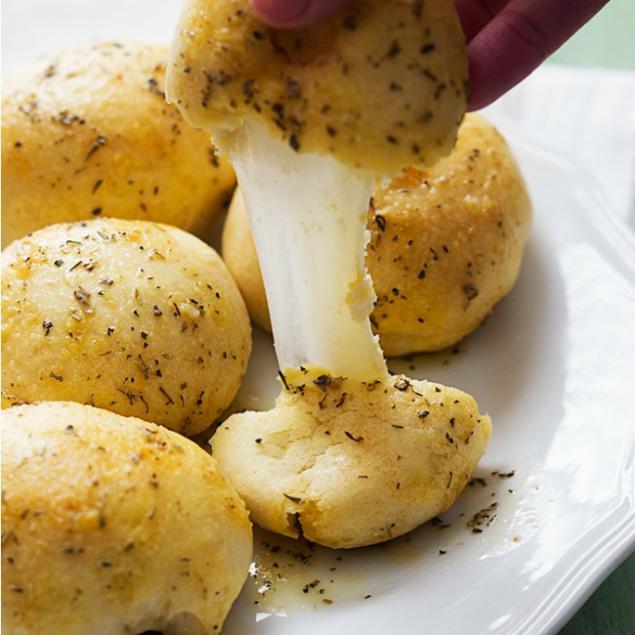 6. Draniki
Everyone loves pancakes, but with cheese are indescribably delicious! Preheat the oven and smazh baking dish with butter. In a bowl, mix the butter, cream, salt, pepper, onion and grated soft cheese. Pour pancakes with this mixture and bake this wonderful cake, until crisp.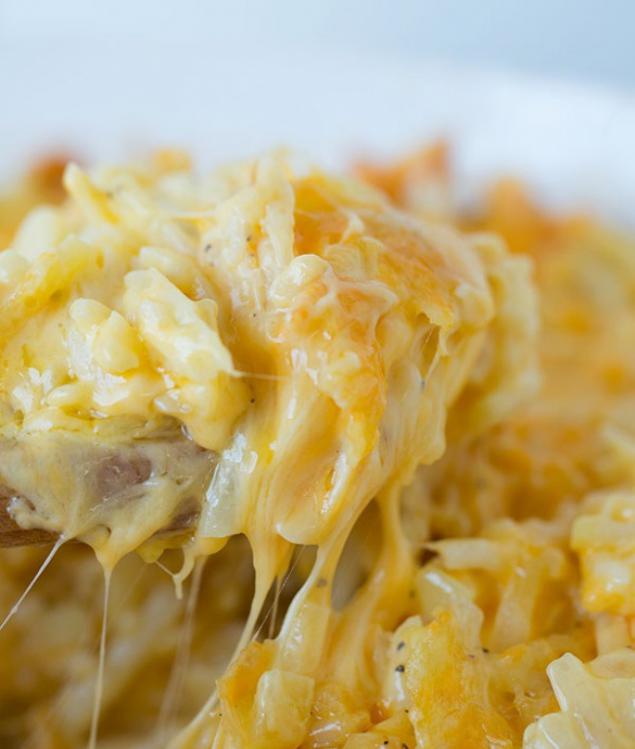 7. Pizza bread
We shall cut a loaf of bread in length and width so as to obtain a mesh. Wrap the bread in foil and place in oven for 10 minutes. Melt butter and add the garlic, grated cheese and thyme leaves. Elevated pieces of bread and zaley their creamy sauce. Between them paste the pieces of tomato and cheese. Bake the bread for about 20 minutes, at the end sprinkle it with grated cheese.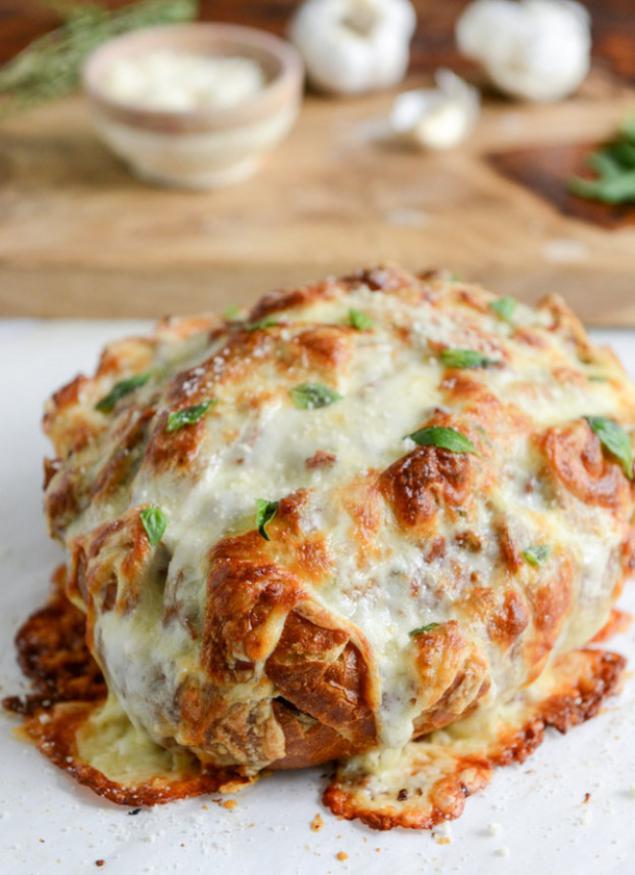 8. Pasta with cheese and croutons
Decoction of the pasta in salted water. Melt in a pan s Art. l. butter, add to the breadcrumbs and chopped garlic and fry. In a saucepan, prepare the sauce - Melt 4 tablespoons. l. butter, add the flour mixture and boil for 1 minute. Gradually pour in the milk, it follows that the mass remained thick. Add the sauce with salt, pepper and cheese. Laid out in the form of pasta, zaley sauce and bake 30 minutes.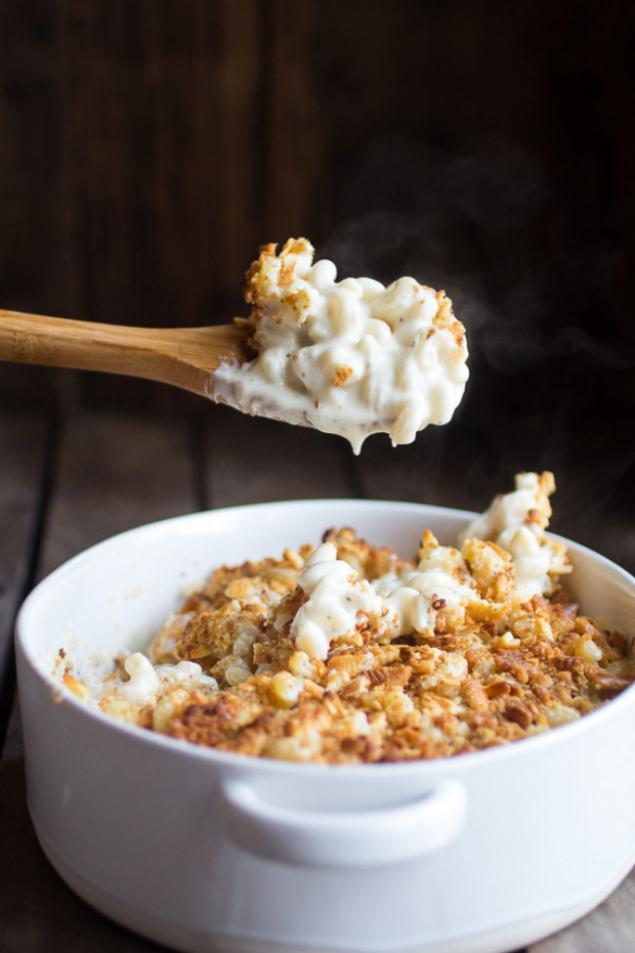 9. Potatoes with cheese
Cut the cooked potatoes in half, put in a mold and zaley yogurt. Sprinkle with salt, pepper and finely chopped garlic and bake in the oven for 20 minutes. At the end sprinkle with grated cheese dish, the best of several species, let it melt.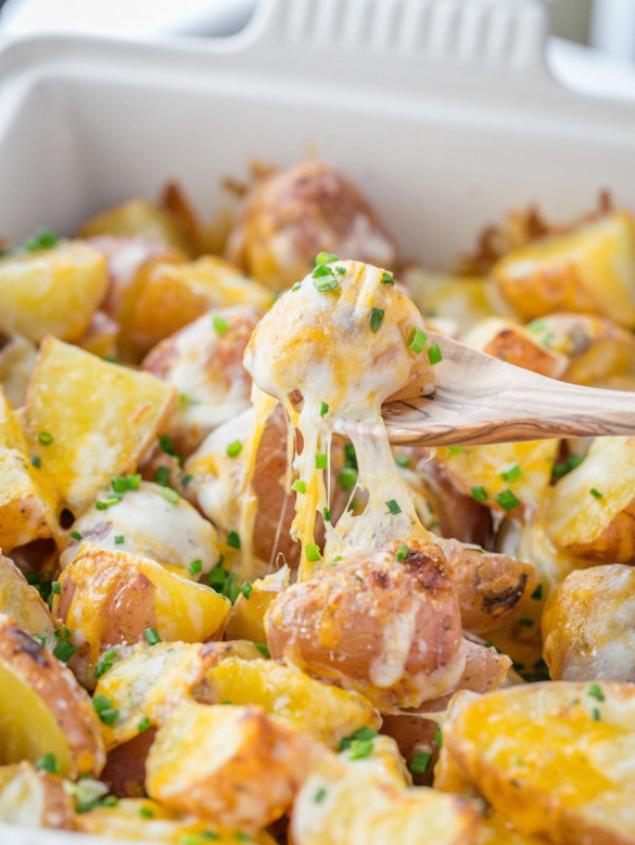 10. Cheese cream soup with tomato
Fry onion, diced, in olive oil. Add the black and red pepper, Italian herbs and tomato paste. Within minutes of warming up the mixture, it also added parsley and canned tomatoes with juice. All tucked basil and sugar. Boil the soup to simmer for 15 minutes, sprinkle it with grated cheese and vzbey in a blender. With crackers and croutons this soup is perfect!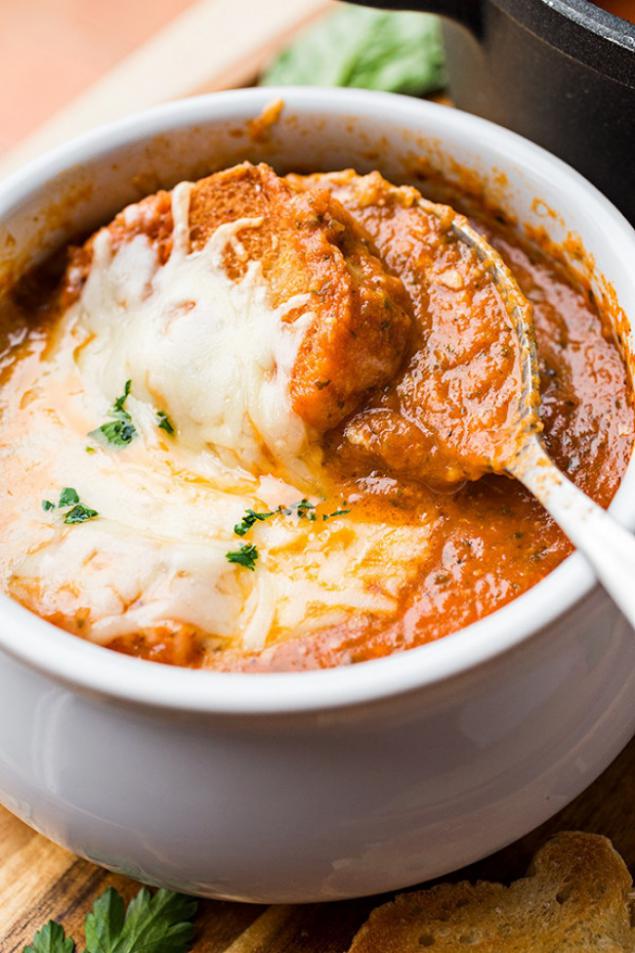 11. Sandwiches with cheese and bacon
Soft bread sandwich roll out with a rolling pin, top with a slice of cheese. Make a roll and wrap it in a thin slice of bacon. All fasten with a toothpick and fry in butter. Top rolls can be decorated with sesame seeds and fresh herbs.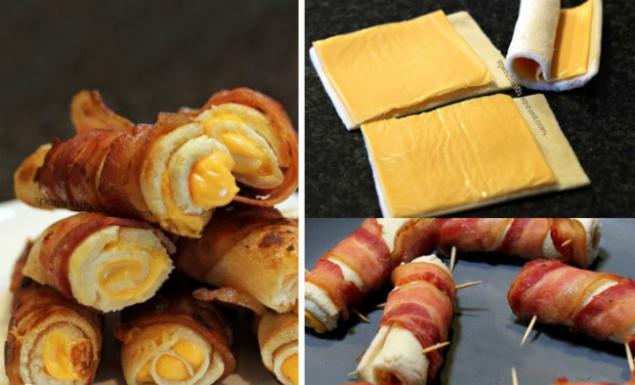 12. Red pepper with cheese
We will cut the red pepper into cubes. Mix pepper 4 tbsp. l. cream cheese, mozzarella ball and cup grated hard cheese. Add salt and pepper to taste, bake the dish in the oven for 30 minutes. Bring pepper hot with croutons or bread roll.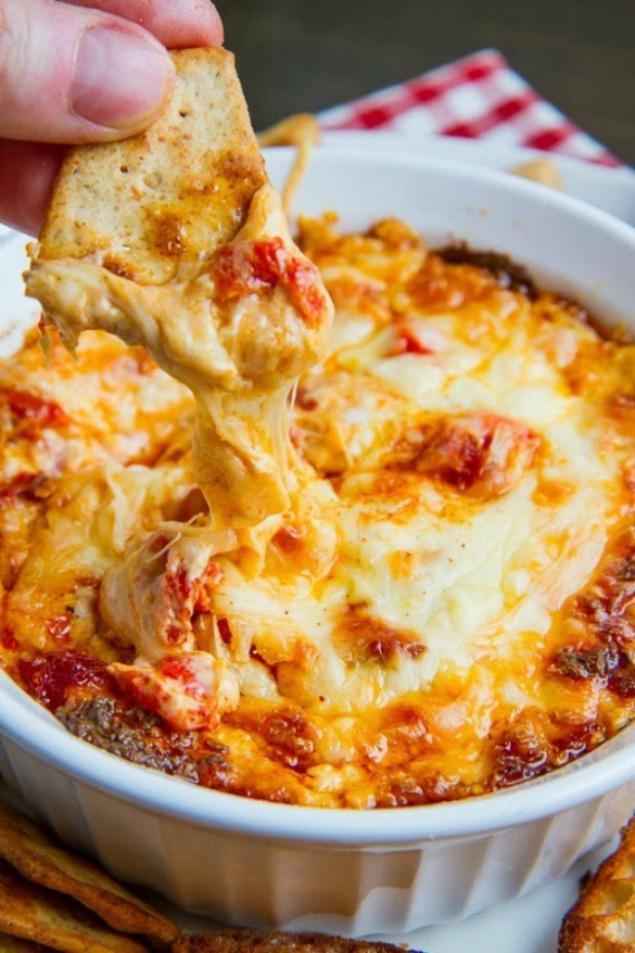 With these recipes you will be able to enjoy the cheese in different variations and choose your favorite. What do you like more: the funds or the usual sandwiches with melted cheese? What is the difference? It's time to learn, explore the world of cooking and rich taste with us! Bon appetit.

via takprosto cc