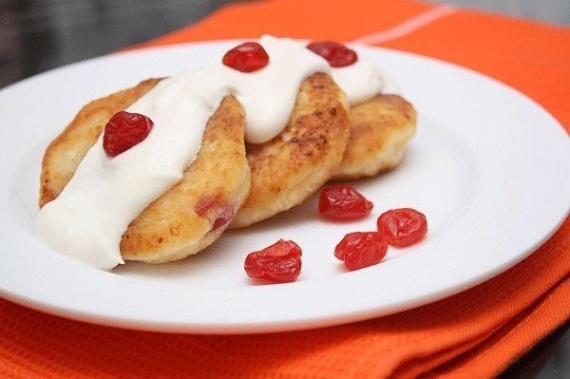 Ingredients:
Cottage cheese - 500 grams (dry and desirable enough fat)
Eggs - 2 pcs
Wheat flour - 170 grams
Brown sugar - 70 grams
Salt - ½ teaspoon
Dried Cherries - 70 grams
Vegetable oil - 50 ml
Preparation time - 40 minutes. Quantity - 6 servings.
Gently rub the cottage cheese with a fork to obtain an even smaller lumps. Put it in the eggs and stir.
Now add salt, sugar and sifted flour. Knead the dough.
Add dried cherries pitted. You can put any dried or crushed nuts.
Using a tablespoon boned pieces of dough in the flour, give shape and spread on a moderately hot pan with vegetable oil.
It is best not to fry cheesecakes medium heat until golden brown.