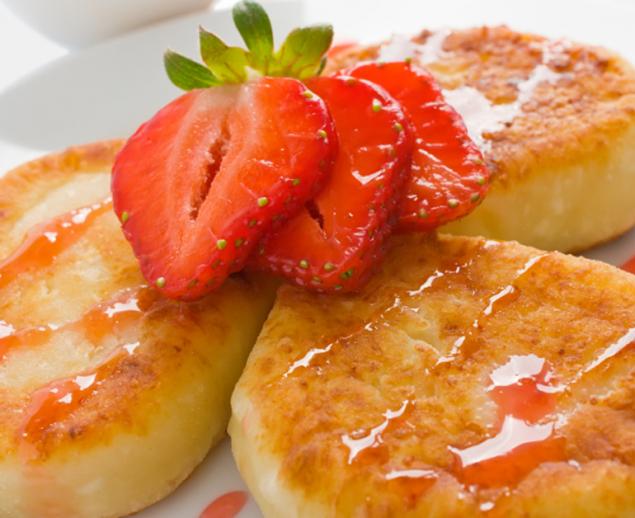 One of the main challenges of any diet is the rejection of delicious food. Dukan freed its followers from such injustice – he offered a lot of interesting recipes. How to cook cheese cakes on Ducane, what foods can form the basis of this healthy cuisine?
Selection of products
, Practice shows that pancakes are more tasty, if you take the cheese is not soft, but grainy (fat – 0-2%). Also when cooking required ingredients: corn starch or bran (oat, wheat). Eggs can be used either in whole or in part (only protein). Find the use of food additives – sweetener, greens, fat-free cocoa. When cooking cheesecakes pan oil to lubricate at a minimum, using a silicone spatula or a brush.
Cheese cakes with greens
This recipe cheesecakes for Ducane allows you to diversify your menu. You'll need 6 tbsp of curd, whole egg and a couple tablespoons of oat bran. Additional components of the dish – chopped dill, sugar substitute, unsweetened and low-fat yogurt.
Connect the egg, cheese, bran, a little dilute yogurt to make a plastic mass. Divide it into 2 parts. In one, add the chopped greens and salt, and a sweetener. Fry the sweet and savoury pancakes in a frying pan.
Cheesecakes in the oven
for cheesecakes Dukano for the attack are composed of mostly protein ingredients: 150 g of cottage cheese, 2 tbsp yogurt, protein. Thickened mass will allow bran (2 tbsp), and give it the pomp – baking powder (1/4 tsp. is enough). May use salt and sugar substitutes.
Unit whisk with salt, curd mash with the yogurt and sugar substitute, add baking powder, enter in the meal bran, then protein. Put the mass into a silicone form. Bake at 200 degrees for 15 minutes.
Cheesecakes without bran
Plus cheesecakes is that they can be made without bran (during the passage of the diet norm of this product should also be controlled). So, to prepare this dish, take 180 grams of cottage cheese, a couple eggs, 2 g sugar substitute and lemon zest. The cooking process is very simple – connect all the components, put into molds and bake in the oven for 20 minutes (200 degrees).
Cheesecakes in multicookings
multivarka you can cook several smaller cakes, but it's easier to make one large. You will need 0.5 kg of cheese, a couple tablespoons of cornstarch and 3 eggs. Also, take the sugar substitute, baking powder (1 tsp). Components connect, put in shape, cook for 40 minutes (Baking). Then let the cheesecake cool down and then remove using the basket for steaming.
Cheesecakes with cornstarch
200 g curd connect with egg and sugar substitutes. Add 1 tbsp of milk powder, cocoa and starch, and 0.5 tsp of baking powder. Bake cheesecakes in the oven or fry in a frying pan.
Cheesecakes of cottage cheese and berries
For cooking pancakes with berries you'll need a pack of low fat cream cheese, egg, couple spoons of oat bran, sea salt, Goji berries (2 tbsp). For sweetening, use stevia.
The berries soak for 40 minutes and then drain and dry them. Mash the cottage cheese well, combine with other components. Add the prepared berries to shift ground in portions molds. Bake at 180 degrees for 20 minutes.
Cheesecakes recipes Dukan out very tasty, and, most importantly, they do not harm the figure. In the recipe book diet Dukan you can find a lot of interesting ideas cooking healthy meals. published
Source: updiet.info/