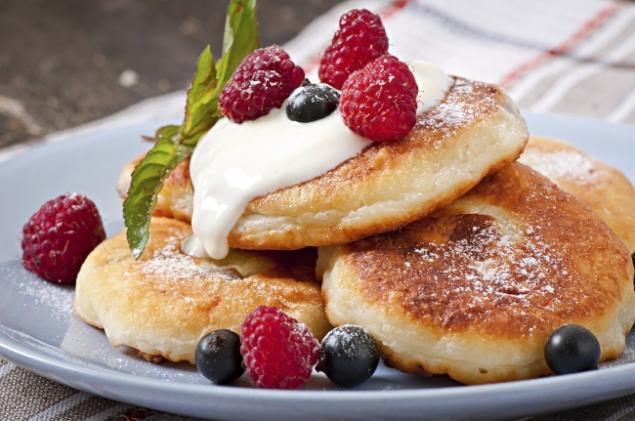 Cheesecakes are loved by all. Photo: thinkstockphotos.com
Cheesecakes are literally our everything. Love them, even those with the word "curd" usually frowns. Our pastry chef Oleg Ilyin has taught us to cook the pancakes so that they always work.
If you think that there is nothing easier than to cook cheesecakes, I advise you not to be so categorical. A professional pastry chef and host of super show
"Make me beautiful"
Oleg Ilyin gave us a real master class, now we know how to make the most delicious cheesecakes and correct.
THE ORIGINAL RECIPE CHEESECAKESWhat you need:
700 g of cottage cheese with a fat content of from 5 to 9%
2 eggs
3 tbsp. sugar
3 g vanilla sugar
2 pinches of baking powder (that's the secret, thanks to the baking powder pancakes are delicate, fluffy, airy)
6 tbsp flour
salt – to taste
30 ml vegetable oil
30 g butter
How to make original cheesecake:
1. Put in a large bowl the cottage cheese, add sugar and vanilla sugar. Mix well with your hands. Add the eggs, again knead the dough.
2. Flour to connect with baking powder and salt, pour in the cottage cheese and again mix thoroughly with your hands.
3. The formation of the dough, the meatballs, Pompiliu work surface with flour.
4. Fry the cakes on low heat on a mixture of butter and vegetable oil.
5. To submit original cheesecakes with sour cream and berries.
Source: domashniy.ru/