Pancakes for Breakfast – the most simple and straightforward dish. Which is made in every family, win-win, and always spent odusanya. With sour cream, berries, jam or honey.
And if you depart from the usual recipe and make a savory cheesecake? With herbs, with a fresh and spicy sauce with young garlic? These pancakes can be eaten in the afternoon or for dinner, they are good in hot or cold. Add your favorite herbs, season with spices – and you get a completely different dish of cottage cheese.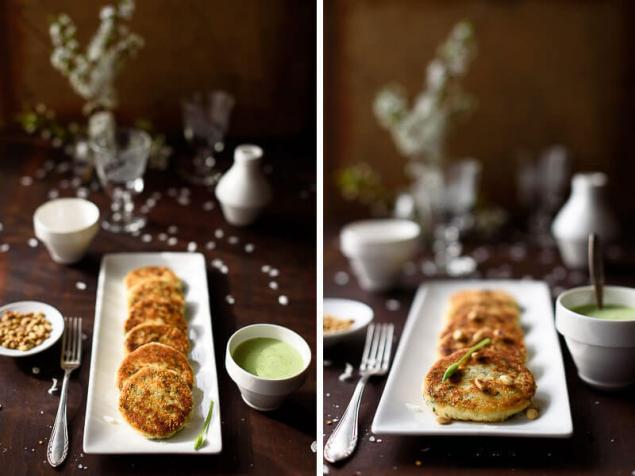 Cheese with herbs and garlic sauce
400 g of cottage cheese fat content 9%
1 tbsp flour
1 egg
1 small bunch fresh cilantro
1 tbsp vegetable oil
4 tbsp Panko (breading of bread crumbs)
salt
for the sauce:
1 bunch garlic
1 bunch of spinach
1 tbsp lemon juice
2 tbsp olive oil
100 g of sour cream 20% fat
salt
2 tbsp pine nuts for supply
To prepare the garlic sauce. In a blender, chop the garlic and spinach, add salt, lemon juice, olive oil and sour cream, punching until smooth.
Mix the cottage cheese, chopped cilantro leaves, egg, salt and a tablespoon of flour. Molded cheesecakes, roll them in breadcrumbs. In a pan pour vegetable oil, heat and fry the cakes on medium heat for 2-3 minutes on each side until it will turn brown. Feeding, watering green sauce and sprinkled roasted pine nuts.
Cool the cheesecakes we eat today in the night. To say that it is delicious is to say nothing! published
P. S. And remember, only by changing their consumption — together we change the world! © Join us at Facebook , Vkontakte, Odnoklassniki
Source: zveruska.livejournal.com/138179.html