When the sun begins to warm and the gray color over the winter city, the birds begin to Twitter as something desperately and hastily, in the air, something changes and it becomes like a haze, then just know spring is inevitable.
And while she is preparing for a decisive offensive, it is necessary to prepare yourself and to her. March days are always days of Mimosa, smelling shrill and clear, deafening her furry balls bright yellow. The color of the Mimosa as a promise of imminent spring. Add the same color and light on our table, enough muted winter colors.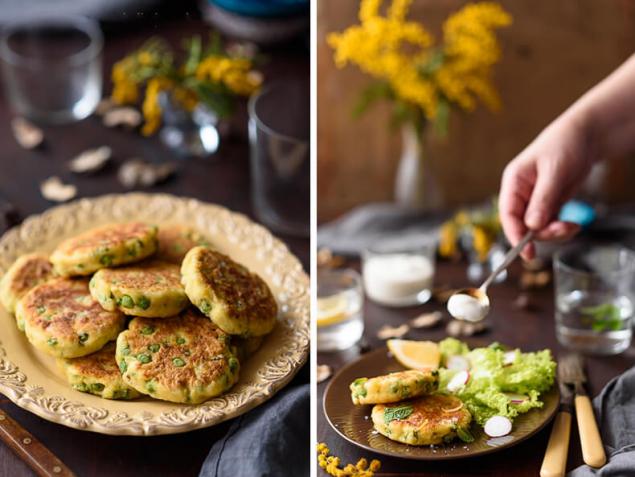 When possible, we like to have Breakfast later, slowly and thoroughly. Nice to sit with a Cup of coffee and a croissant somewhere in a cosy café with views of Moscow (and even better – Paris) street. But it's still rather an exception, and a homemade Breakfast is different.
For example, cheesecake is one of the most popular options for the morning meal not only in our house, right? Such a familiar dish sometimes want to do new, unusual and bright. And today they remind us with their color Mimosa, but there will be savory for brunch.
In General, we quite often make cheese that is savory, we like. For example, with greens. Or with herbs and sun-dried tomatoes. Or, as in this time – with the green peas and lemon zest, bright yellow and pretty.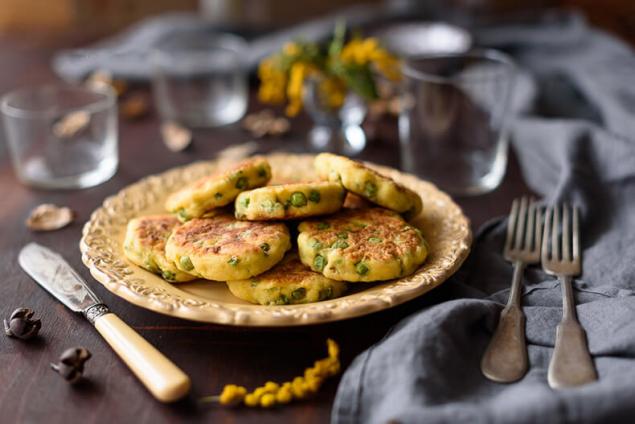 These pancakes we love and do with a variety of additives, depending on the mood. The main problem here, not what to put here, and some of the cheese to make. In recent years we have cottage cheese has a quite complicated relationship, its quality is highly unstable, and the familiar and proven brand sometimes give a completely inappropriate result, unfortunately.
It seems to be the cheese of good consistency, and the dough for the cheesecakes is correct, but in the pan they start to foam, to burn or just be soggy. Just remember palm oil, damn it. The market cheese is an option, of course, but off-budget. So we continue to try and look.  
Cheese cakes with green peas and lemon zestIngredients
(for 2 servings):
200 g cottage cheese fat content 9%
1 large egg
1-2 tablespoons flour (depending on the humidity of cottage cheese)
1 Cup green peas (130-150 g)
2 pieces of green onions with the white part
1 tsp. grated lemon peel
1 tsp olive oil
a pinch of turmeric
salt
flour or breadcrumbs for breading
ghee for frying
For the sauce:
200 g Greek yogurt 10% fat
1 tsp. grated lemon peel
sprig of mint (only leaves)
freshly ground black pepper
salt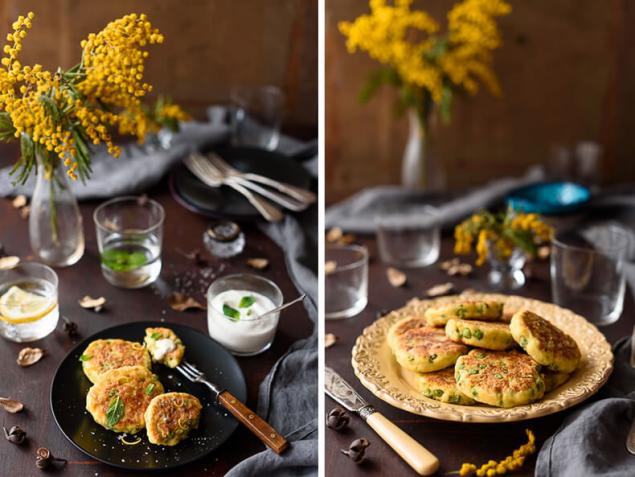 How to cook:
To prepare the sauce of yogurt, chopped mint leaves and grated lemon zest, salt and pepper it and place in the refrigerator to infuse for 20 minutes.
Green peas boiled in salted water for 3-4 minutes, then put it in cold water (with ice) to preserve the color. Then drain the water.
Finely chop white part of onions, greens to delay, we won't need it.
In the frying pan, olive oil, reduce the heat, put chopped onions and a little to embarrass him, not Sarmanova. Sprinkle with salt and turmeric, stir and remove from heat.
Curd RUB through a sieve, if it has grains, add the egg, grated lemon zest, green peas, flour, onions, turmeric and knead the dough. It should be soft but not liquid.
Preheat the frying pan with melted butter, with wet hands formed into cakes (8-10 pieces), breaded them and fry for 2-3 minutes on each side until it will turn brown.
To serve, sprinkle with olive oil, mint, lemon and yogurt sauce.
You can make a version without gluten then wheat flour to replace, for example, rice. And if you fry the cakes on coconut oil, it will be even tastier. The sauce you can grate some ginger and add cilantro, then taste appears Asian notes.  
Cook with love!  
P. S. And remember, only by changing their consumption — together we change the world! ©
Join us in Facebook , Vkontakte, Odnoklassniki
Source: zveruska.livejournal.com/160192.html