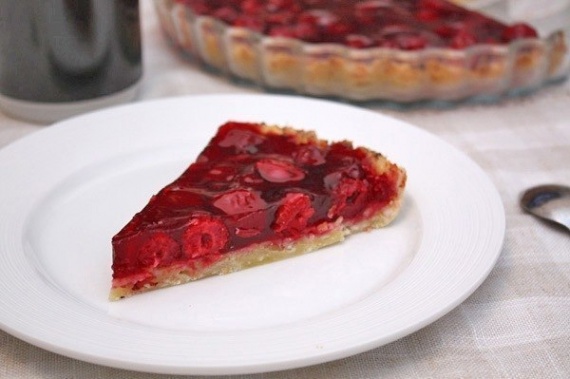 Ingredients:
150 g butter,
150 g of flour,
150 grams of cottage cheese,
180 grams of sugar,
500g cherries,
10 g of gelatin
Butter cut into pieces in the cold and join the flour, continuing to cut up until the mixture becomes fairly uniform, and small pieces, like crumbs.
Add the sugar and curd, quickly knead the dough, wrap in foil and put it in the fridge for half an hour.
At this time engaged in filling. Directly frozen cherries put in a saucepan, add sugar and put on a small fire. The amount of sugar can be changed depending on the acid cherries.
Water can not be added, as in the process of heating the liquid to stand out quite a lot of berries.
In a separate bowl gelatine soaked in cold water (about 50 ml) minutes at 10-15.
When the berries begin to boil, turn the heat off and need to add them to the soaked gelatine. Thoroughly mix all, it is completely melted and put in a cool place to our filling has cooled to room temperature.
Roll out the dough layer is about 0, 5-1 cm and spread evenly over the baking dish. Make a few punctures with a fork.
Bake in preheated oven for 15-20 minutes at 180 degrees until golden brown.
The finished baked foundation you need to put a cherry (no liquid) and put our cake mix in the refrigerator. Also cool liberated juice.
When the cherry juice will start to harden a bit, but it is still liquid, it should be poured onto the base of the cake and immediately put the cold.