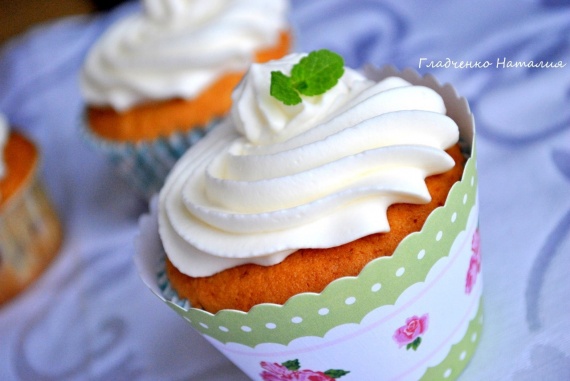 incredibly light and airy, simply melt in your mouth! Delicious recipes I have not yet met, bake them very often with a variety of berries. This time has done little Therefore festive and decorated with whipped cream, you can now say that it is cupcakes =)
Ingredients:
-250 Gr. flour
-2 Tsp baking powder
0, 5 tsp salt
-200 Gr. sugar
-3 Eggs
-350 Ml. cream (33%)
-1 Tsp vanilla extract (optional)
-300 Gr. berries (strawberries, blueberries, etc.)
-300 Ml. whipping cream + 30 gr. powdered sugar (for decoration)
Preparation: -Muku sift through a sieve, add baking powder, salt, stir and set aside.
-In Another bowl, beat eggs with sugar. Eggs should turn white and slightly increase in volume.
-In The third bowl, whip the cream.
-Then In a bowl with cream whipped with sugar, add eggs and vanilla extract (optional). Gently stir.
-Then Add half of the flour, stir gently, add the second half of the flour, stir again and fill the molds 3/4. Then add the berries.
-Vypekat At 175 degrees for 20-25 minutes.
-Slivki Whip with powdered sugar and decorate muffins