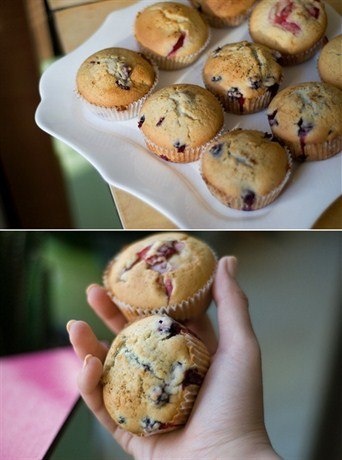 Ingredients:
Butter 110 g
Wheat flour 290 g
Baking powder 2 teaspoons
Pinch of salt
1 cup blueberries
Sugar 250g
Eggs 2 pieces
Vanilla extract 2 teaspoons
Milk 120 g
Walnut nutmeg ¼ teaspoon
How to:
1. Muffin Pans greased and sprinkled with flour.
2. Corolla mix the flour, salt and baking powder. Blueberry roll in two teaspoons of flour mixture.
3. mixer on medium speed beat the butter with the sugar (200 grams). It takes about four to five minutes. Then add the eggs one at a time, then - vanilla.
4. Switch on the mixer is the slowest mode, add flour, stir, and gradually pour in the milk. Stir necessary, until the dough is more or less converge, then muffins will turn soft and friable. Spatula stir in blueberries.
5. Spread batter into molds. The remaining 50 grams of sugar mixed with grated nutmeg and sprinkle caps muffins.
6. Put the future muffins in a preheated 190 degree oven and hold it about twenty-five minutes.
Blueberries can be replaced with cranberry or raspberry. And the berries can be quite frozen, the main thing - do not defrost them in advance and put into the dough just like that, otherwise they will release a lot of water and muffins are obtained wet.