Muffins no sugar and gluten — not a miracle right?! You can prepare a lot and freeze for the future!
The first option
Ingredients: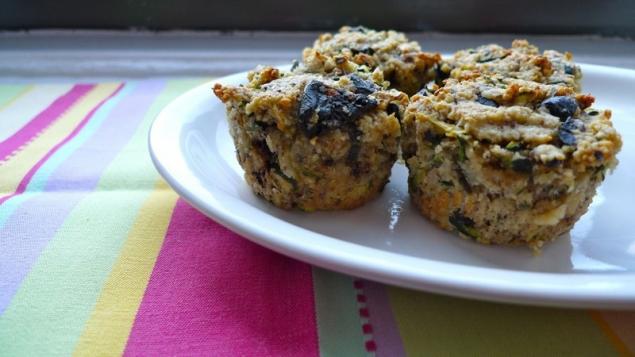 — 1 bell pepper yellow or red
— a handful of sun-dried tomatoes (dry or in oil) or black olives (chopped finely tomatoes or olives rings)
— 1 large onion
— 1 kupny zucchini grated
— ½ Cup olive oil (you can safely completely remove)
— ½ Cup of coconut oil (enough and 150 ml, but in General coconut oil is good and is a great way where to apply it)
— 1 tbsp coconut oil for frying onions
— 1 tbsp of dry rosemary
— 1 tbsp dried oregano
— ½ Tsp black pepper
— 2 tbsp flax or Chia seeds and 3-4 tbsp of water (if you don't add the olive oil, you can take more water)
— instead of regular flour: 1 ½ cups oat flour (ground oatmeal) and 1 Cup of cornmeal or rice (but will fit perfectly and 2.5 cups of flour from buckwheat or amaranth can be ground for this green buckwheat or a mixture of green buckwheat and oatmeal. the fit and ground some oatmeal, but then the texture will be grainier)
— 1 tbsp sea salt
— 2 teaspoon soda  
Preparation:
1. Preheat the oven to 190C.
2. Mix the flax with water and allow a few minutes to stand up (you can pre-grind).
3. Dried tomatoes to soak for 5 minutes, chopped (or chopped olives).
4. Saute the onions in coconut oil until zolotisty (of course, in olive, but coconut is the most healthy option).
5. In the oven or on the grill to roast bell pepper until charred skins, remove the skins, chop it into small pieces (this pepper will give "slatinka" and the divine scent).
6. Mix the flour with salt and soda.
7. Separately, mix the grated zucchini with onions, bell peppers, tomatoes and oils.
8. Stir the mixture with herbs and flax; if the mass is wet enough, add water.
9. Put the mass into 12 paper or silicone forms, bake for 25-30 minutes until Golden.
* in the vegetable mixture you can also add small spring onions
The second option:
Preparation 10 minutes, baking for half an hour  
Ingredients for 12 servings:
3 cups of flour to the ground almonds (you can try walnuts, hazelnuts)
2 teaspoon soda
2 small zucchini (grate)
a handful of black olives (chopped)
one-third Cup of coconut oil (try starting with two tablespoons, in General, you can replace the olive, but coconut here is perfect, including because, for all its healthy qualities, and even freezes in the cold)
2 tbsp with a slide of ground flax (you can substitute Chia seeds), pour 5 tbsp of water (this is to replace the eggs — in principle, you can 1-2 eggs if you eat eggs)
1 tbsp with a slide honey (and dates, blended with water)
2 teaspoon dried oregano
2 teaspoon dried extragon
1/2 teaspoon sea salt
​
Preparation:
Preheat the oven to 190C. While it heats, mix the flax with water and let heat to thicken. Mix all the dry ingredients (flour, salt, soda). Mix grated zucchini, olives, oil and honey and mix well. Mix dry mix with wet, ground flax and herbs — if the mass be not sufficiently moist, add a little oil or water, lay the spoon on forms (good silicone) — there are about 12 muffins. Bake for 30-35 minutes (or until the solidification of the top).published
P. S. And remember, only by changing their consumption — together we change the world! ©
Join us in Facebook , Vkontakte, Odnoklassniki
Source: ecoways.ru/ru/recepti/zdorovoe_pitanie/Kabachkovie_muffini_bez_muki_i_sahara.html