These cupcakes look very bright, and at first glance it is not clear at all that prepared their chicken! I have never tasted such dishes before, and terribly regret it. Chicken meat quickly become boring, turkey becomes more expensive, have to find creative ways to prepare chicken ... well, that there is the incomparable recipe
Muffins with chicken and cheese -! Only one of the delicious pastries variations. You can prepare this dish with mushrooms, greens, broccoli, chicken and pineapple, chicken and oatmeal. I would get very tasty!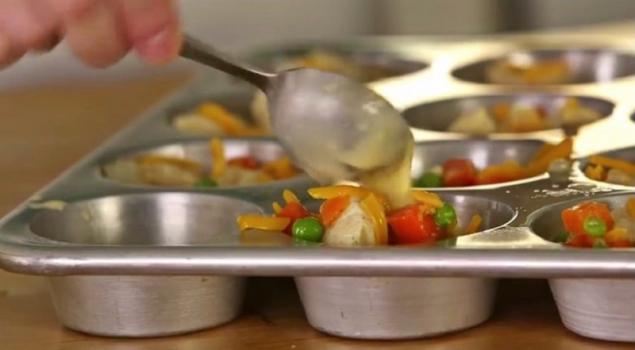 Muffins with kuritseyIngredienty 0, 5, Art. Milk 1 tbsp. grated hard cheese 0, 5, Art. finely chopped onion 1 tbsp. green peas and sliced ​​carrots 2 eggs 0, 5, Art. flour 500 g chicken fillet, boiled and sliced ​​ 1 tbsp. l. vegetable oils 1 hour. l. baking powder 1 hour. l. salt black pepper to taste 0, 5, ch. l. cumin

Preparation Mix up a boiled chicken with vegetables, add to the mixture of grated cheese. Salt and pepper. Mix the milk, flour, baking powder and eggs, whisk well vzbey. You can add the cumin batter. Brush the cake pan with oil. In each cell pour a little dough, top out with chicken and vegetables, then again watered batter. Bake wonderful muffins at 180 degrees about 20 minutes.
< br> After watching the video you surely excite your appetite ... That's how it is prepared superblyudo!



< Muffins with chicken and vegetables to turn any meal into a feast! When I'm sad, I cook something unusual, and this recipe is just the thing ... If you have not tried it yet like the dish, be sure to prepare these muffins and tell us about your impressions!