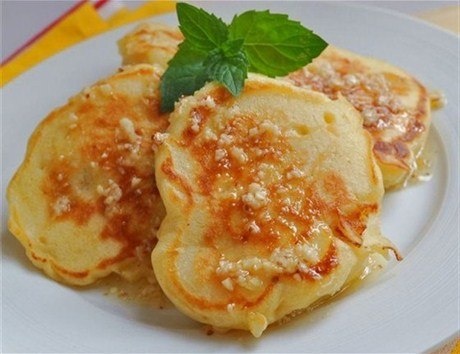 Ingredients:
Low-fat yogurt 500g
½ cup sugar
Eggs 2 pieces
Pinch of salt
Soda ½ teaspoon
Wheat flour 2 cups
Apples taste
How to:
1. To prepare the pancakes must beat eggs with sugar, combine with yogurt, add salt.
2. Then add the baking soda, flour and mix well again - the dough should get a light, fluffy, polugustym.
3. Apples cut into small slices.
4. The dough with a spoon to pour into a hot pan with vegetable oil. On the surface of the pancakes quickly and beautifully arranged slices of apples, press them with a spoon. When the bottom edge of the pancakes browns, pancakes flipped. Remove them from the pan, put on a platter, sprinkle with powdered sugar and cinnamon.