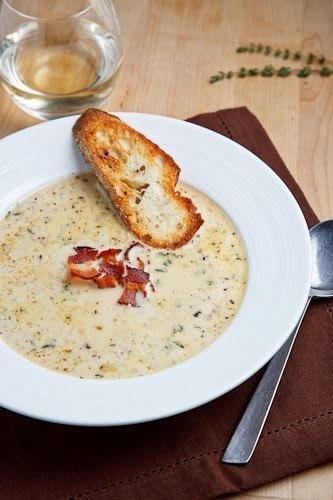 Ingredients:
Cauliflower - 1 head
Olive oil - 2 tablespoons + 1
Salt and pepper - to taste
Onion (medium) - 1 pc
Garlic - 2 cloves
Thyme (chopped) - 1 tablespoon
Vegetable broth - 3 cups
Grated Cheddar - 1, 5 cups
Milk or cream - 245 ml
Preparation:
Toss cauliflower (divide into florets) in olive oil (2 tablespoons) with salt and pepper. Put this on cabbage gratin dish. Place in a preheated 200 degree oven for 20-30 minutes and cook until golden hue.
In a saucepan over medium heat, heat the olive oil (1 tablespoon). Add the finely chopped onion and 5-7 minutes - squeezed garlic timyanom.Zaleyte with vegetable broth and place the cauliflower and bring to kipeniya.Umenshite heat and simmer over low heat for about 20 minutes.
Turn this mixture into a puree with a hand blender (in the pan). Add grated cheese to melt it. Season with salt and pepper. Add the milk (or cream) and remove from heat. Serve.