Cauliflower is a very useful product that is also very tasty if correctly prepared. Options of dishes of cauliflower is really a lot, we need only to show imagination. We have compiled a few recipes that will definitely inspire you to independent creative pursuits.
Mini-tortillas out of cauliflower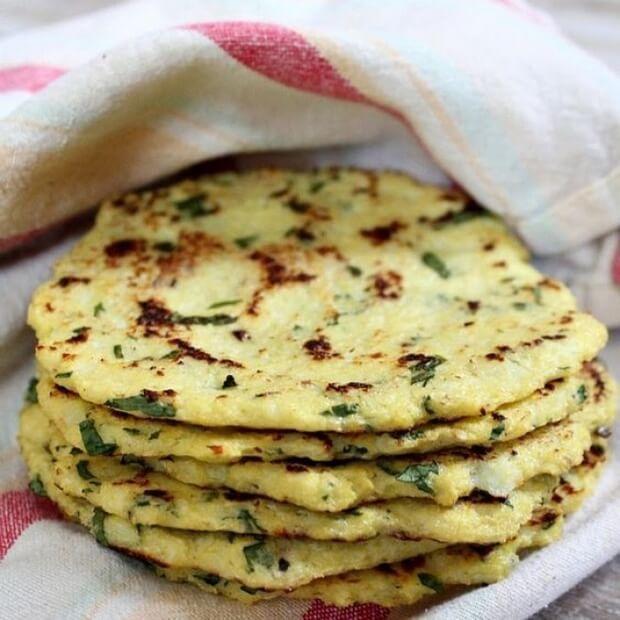 Ingredients:
500 g of cauliflower
2 eggs
parsley
salt, pepper
Preparation:
Cabbage divided into florets and grind in a blender until mushy state.
Measure out 2.5 cups, pour in a bowl suitable for the microwave. Put in the microwave for 2 minutes, remove and mix well. Once again for 2 minutes and again to mix.
Pour into cheesecloth, allow to cool slightly and squeeze well. Be careful, the cabbage will be very hot! Add the eggs, salt and pepper to taste. Mix well until smooth. You can add your favorite spices or finely chopped herbs.
The oven to preheat to 190 degrees, baking tray lay a parchment. Put the dough on the paper in small circles.
Put in the oven for 10 minutes. After 10 minutes, remove and flip. Send back in oven for 5-7 minutes.
Cool slightly. Heat a dry frying pan, place a tortilla and lightly fry both sides, pressing with a fork.
You can serve it with any sauce or with sour cream.    
Wings Buffalo cauliflower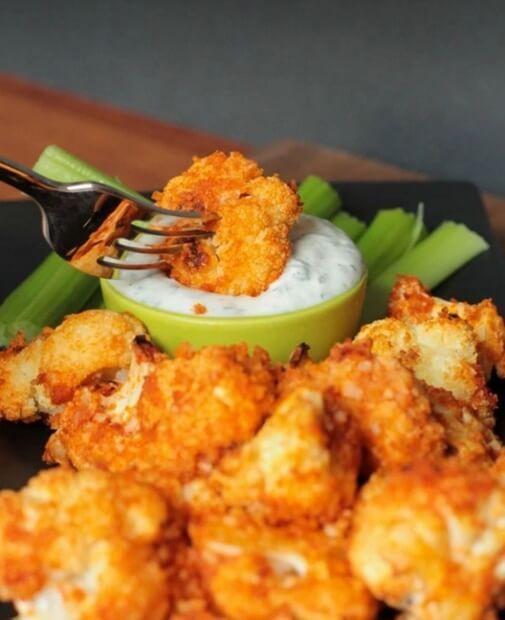 Ingredients:
¼ Cup of vegetable milk (almond or soy)
1 tsp white vinegar
¾ Cup flour
1 tsp ground dried garlic
1 head of cauliflower
1 Cup hot sauce red pepper
4 tbsp margarine
½ Tsp white vinegar
¼ Tsp sea salt
Preparation:
Preheat the oven to 230 degrees. Cover two baking trays with parchment paper or foil (greased with butter) and set aside.
In a small bowl or mug, mix the milk and vinegar. Leave for 5 minutes. Then add the flour and garlic, mix thoroughly. Dip each piece of cauliflower in the mixture and lay out on a baking sheet, keeping between them a certain distance. Bake for 20-25 minutes. While the cabbage is in the oven, mix hot sauce, oil, vinegar and salt in a small saucepan and bring to a simmer. Remove from heat and set aside.
Remove the cabbage from the oven and pour hot sauce. Then place back into the oven and bake for another 6-8 minutes.
Tastes best when served with celery, carrots and cheese.  
Gratin of cauliflower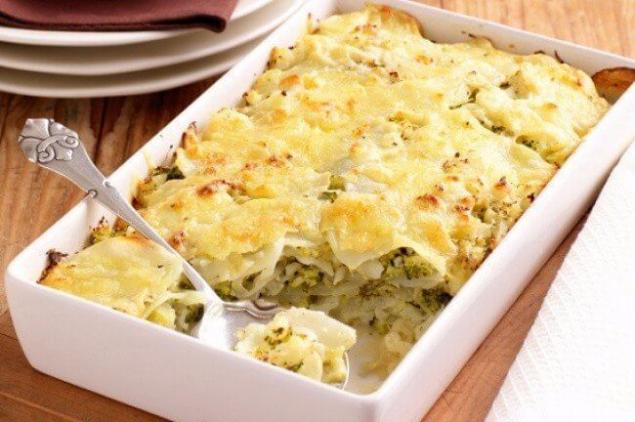 Ingredients:
1 head of cauliflower
150 ml of milk
250 grams of cheese durum
50 g butter
50 g flour
nutmeg
thyme
rosemary
50 ml olive oil
salt, pepper
bread crumbs
Preparation:
Cabbage disassemble on inflorescences and boil for 10-15 minutes until incomplete readiness. Form brush with olive oil, put into it the cauliflower, preferably in a single layer. Preheat the oven to 185 °C.
Meanwhile, make the sauce.
Melt butter in a saucepan. Add flour and rubs, giving to warm up. Then, in small portions pour in milk, stirring constantly.
Cook until thick 7-8 minutes, stirring constantly, add salt, pepper, herbs. Sprinkle with grated on a coarse grater cheese. Stir until cheese is fully melted. The sauce is ready. Fill the cabbage with the cheese sauce and cover with crumbs. Put the form with the cabbage in the preheated oven and bake 25-30 minutes until education appetizing Golden brown.  
Mini-pizza from cauliflower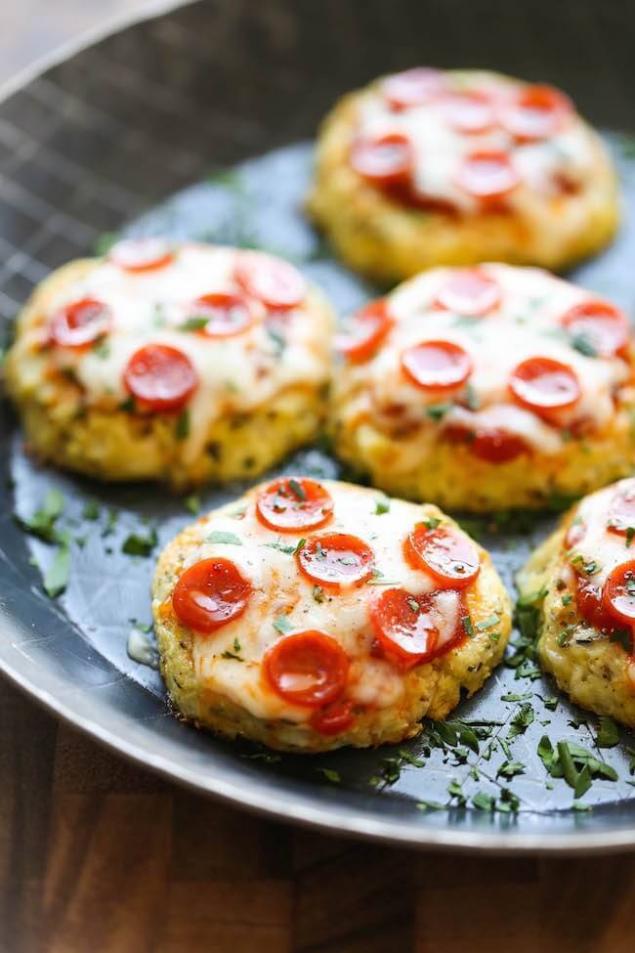 Ingredients:
1 egg
150g + 200 g of cheese
1 tbsp potato starch
1 tbsp olive oil
1 clove of garlic
400 g of cauliflower
10 cherry tomatoes
Preparation:
Cabbage boiled with salt, drain, cool. Grind in a blender, add the beaten egg, olive oil, grated cheese and chopped garlic. You can add more starch to make pizza better keep in shape.
Divide the dough into 4-6 pieces, baking paper, sprinkle the breading mixture and place the pizza on a baking sheet. Bake first 15-20 minutes at 240 degrees, and then put on grated pizza cheese (200 g) and chopped tomatoes and roast for another 5 minutes.    
Omelet of cauliflower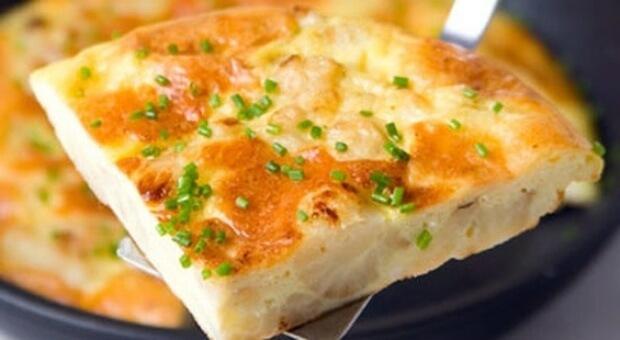 Ingredients:
3 eggs
½ Cup milk
150-200 g of cauliflower
greens
salt
vegetable oil for frying
Preparation:
Cauliflower wash and disassemble into small florets. Chopped cabbage in a pot with boiling salted water and cook for about 7 minutes, until incomplete readiness.
Finely chop the greens. Mix and beat the eggs with the milk, be sure to add salt.
When the cauliflower is cooked, drain the water (it is convenient to do this using sieves). On a heated pan add a little vegetable oil and put the cooked cauliflower. Immediately sprinkle it with chopped greens.
Not frying the cabbage in a circular motion to pour the beaten egg with milk. Fry the omelet first on one side. Then to turn in parts on the second side or cover. You can sprinkle with cheese and broil until tender.published  
P. S. And remember, only by changing their consumption — together we change the world! ©
Join us in Facebook , Vkontakte, Odnoklassniki
Source: lady.tut.by/news/food/489003.html