I never tire of talking about the benefits of green smoothies and about the amazing healing power of chlorophyll, which fills every cell of your body with solar energy. The energy, which is not enough to sick bodies to
start the healing process and strengthen the immune system.
To be honest, their first cocktails I was drinking himself into, the taste of the drink was not very pleasant, more than a glass to drink was very hard. In addition, the first time (about a week) I was a little confused by the bright taste of the herbs. This is because my taste buds were not accustomed to the taste of these products. Long endure such a Breakfast I could not and began to try new products that could improve the taste of my smoothies.
After I picked up the perfect combination of ingredients that
green smoothies is the first thing starts the day our family
. As it turned out, the green smoothie can be not only useful but also delicious. To this I have come through numerous trials and experiments in the combination products.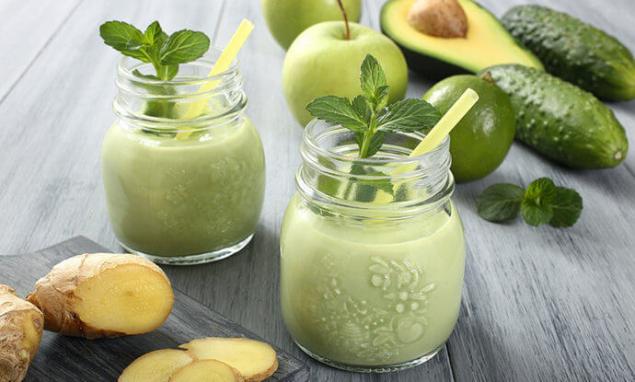 Rules of perfect green cocktail
1.The first and foremost rule
of perfect green cocktail/smoothies I think the
smooth consistency
of the drink.
Perfect smooth consistency of the drink can be achieved by mixing in a cocktail
of soluble and insoluble fiber.Representatives of insoluble fiber:
greens,
citrus,
peel peach,
peel Apple and tomato
the pulp of the pineapple.
Representatives of soluble fiber:
mango,
banana
peach,
apricot,
melon,
avocado,
berries.
If you make a cocktail only of insoluble fiber, it is sure to be a foam and the drink begins to flake. This cocktail drink is not very nice and you have to constantly stir.  
2
.
To have your cocktail without some greenery,
and seeds and fruits were mixed with water until a homogeneous creamy texture you need a
good blender
in a bowl. I recommend to use blender with a capacity of more than 800 watts. If your blender will be bad to shred the greens, you will simply stop drinking cocktails.
If you blender is not very powerful, first you need to chop the greens, and then fruits and vegetables.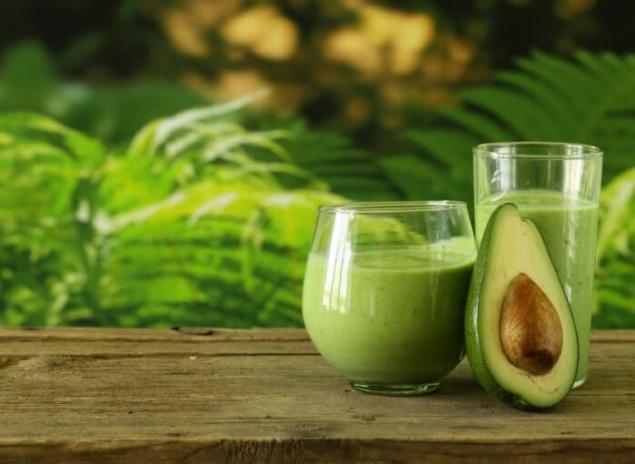 3. Properly selected herbs, vegetables and fruits and their quality.
Greens is of three kinds :
edible, including wild plants,
medicinal,
poisonous (cocktails, of course, not added).
What would your green smoothie had healing properties you need
to choose the right in the first place, the greens
:
The darker the green, the more chlorophyll.
Each cocktail must contain herbs with a neutral taste, otherwise your drink will be inedible.
Use weed – quinoa, wheat grass, dandelion leaves, plantain, calendula.
Add mint leaves, currants, blueberries, strawberries.
Most have medicinal property herbs that are plucked before flowering.
Medicinal plants need to throw in a few stems or leaves.
Add the green vegetables instead of fruit and you'll have a hearty soup.
From herbs, most of all, I appreciate the nettle, Fox, dandelion, plantain, wheat grass, cilantro, celery.
How to choose the right fruit/vegetable cocktail
Today proved by science that all the fruits/vegetables of the same variety have the same number of cells. In the big fruit just more starch and water. So, I'm trying to filter small (more useful). When the industrial fruit begin to grow, they are trying to make big, but they lose nutritional value.
Of course, the smell is one of the key indicators about the benefits of vegetable or fruit. Ripe the plant begins to produce the aroma. The smell, you can determine what fruit was plucked ripe, and some green (lay in the box and ripened artificially). Develop charisma! And you will notice how different the smell of the fruit.
Never eat fruits with green sides.
Remember, we eat veggies for the nutrition of the body, and the fruit for purification.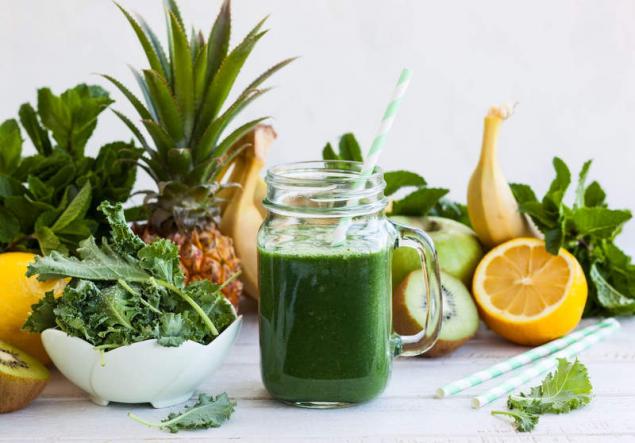 4.Add flavor to your cocktail.
Of course, the flavor depends on whether you sweet fruits.
If you started taking green smoothies for treatment recommend to refrain from eating sweet fruit.
In this case, that added to the cocktail to give it a taste?
The first thing I chose was
the grapefruit and avocado.
Grapefruit is very refreshing drink and sets a light citrus tone and avocado cocktail fills the uniform texture (quite half an avocado per liter of cocktail). In the season of berries, I add
blueberries, currants, blueberries,
and
apples
.
Lovers of sweet you can use
banana, mango, persimmon, dates, pears, berries and honey
.  
5. The Foundation of any cocktail is water.
Water you should add as much to the cocktail had the consistency of yogurt. The juicier the fruit, the less water. If you add too much water will be too liquid drink, resembling mixed with water lettuce. You can replace the water on birch SAP, but it is only a few weeks a year.
If your blender heats up a little drink, you can add water from the fridge or a couple of ice cubes. And in winter time this function will take frozen fruits and berries. Remember that
too cold food affects the gastrointestinal tract, so don't add too cold water
.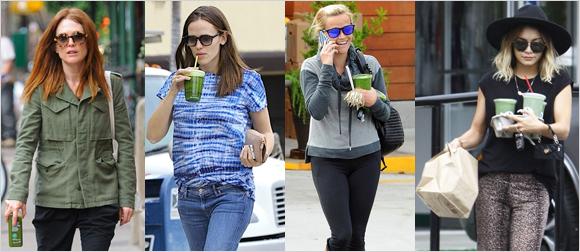 6.
In addition to greens, fruits and vegetables in a green smoothie, you can add
nut milk, sesame seeds, flax seeds, spirulina, Chlorella and chilli
.  
7.The first time I recommend to experiment with products andfind your perfect combination.
Believe me, green smoothies can be delicious. And since everyone has different tastes, you have to enable creativity and to work on your perfect recipe.
In all the time I never have two 100% identical cocktails. And you are unlikely to succeed. Combinations very much, and use herbs and fruits in season to get the most healing power for the whole period.
No need to mix in a cocktail of many ingredients, try to use a 4-6 ingredients.
Enjoy the benefits of green smoothies every day.published  
Author: Svetlana Kulish  
Also interesting: This natural drink is a delicious remedy to strengthen the immune system The perfect drink for beautiful skin
Source: livedetox.ru/kak-prigotovit-idealnyj-zelenyj-koktejl/