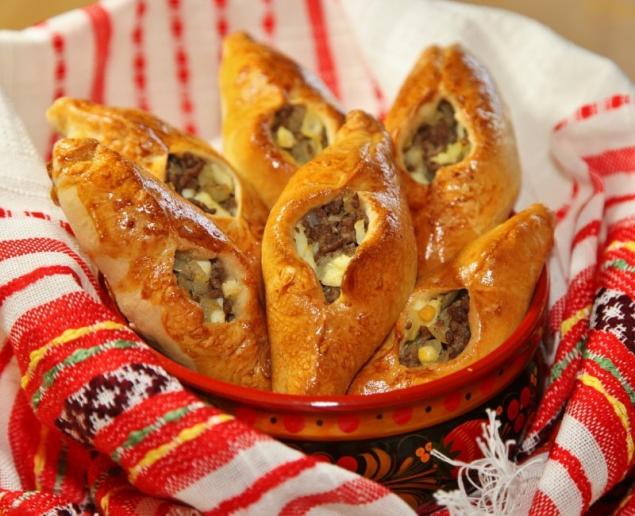 It is traditional in Russian cuisine pies, we love them to do with trout or pike!
Recipe in our family for a very long time, this is a great option for family reunions or picnics.
Delicious all year round!
You will need: For the filling:
1.5 kg red fish (whole)
1 piece onion (large)
6 tbsp vegetable oil for frying
For the dough:
2.5 cups sifted flour
10 g of dry yeast
1.5 cups of milk
2 tbsp butter (melted)
1 pinch of salt
Cooking
1. Knead dough yeast dough. Give it to stand 2 hours.
2. At this time, prepare the filling. The fish is cleaned, to separate the fillet from the bones and shred into small pieces. From the head, the tail of the skeleton to cook the broth. Allow to cool.
In vegetable oil fry the onion until Golden brown.
In a separate pan lightly dry fry the fish pieces. Mix the onion and the fish — it will be filling. Add salt to taste and pepper.
3. To divide the prepared dough into small pieces and roll them out circles with a diameter of 7-8 cm.
In the center put the filling, it is necessary to take the pie to the middle left hole.
4. Pies leave for 15-20 minutes to rise.
On top of them should be lubricated with beaten egg or oil.
Bake in the oven at 200 degrees for 30 minutes.
5. Pies ready to be served with fish broth. Teaspoon it is necessary to carefully pour inside. It turns out very tasty.
Good use of several varieties of fish. For example, take the pike or catfish and red fish.
Source: www.7dach.ru