No one wants to mess with the flour until the summer. The main thing in cakes and pies what? Of course, stuffing. Offer on it and concentrate, buying dough at the store!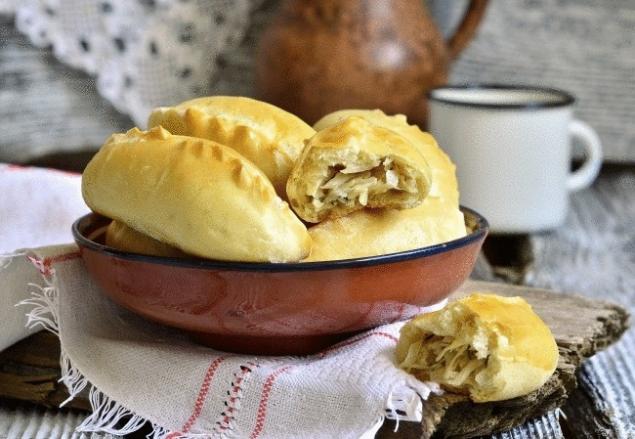 Experienced cooks, we'll probably be condemned, but those who value the luxury of time and a day off to spend with their loved ones, husbands, friends and children, would fully support.
Also, our superfast recipes will appeal to beginners: no special efforts and significant financial investments you will produce a work of art. Well, if you are still determined to mess around with the dough, then bake the luxurious Royal cheesecake!
Pies with cabbageyou need:
500 g leavened dough
1 kg white cabbage
2 eggs
3 tbsp vegetable oil
2 tsp sugar
salt, ground black pepper – to taste
1 egg yolk and 1 tbsp milk – for brushing
How to cook pies with cabbage:
1. Grate the cabbage on a coarse grater, add salt, sprinkle with sugar. Press with your hands and fold the cabbage in a colander.
2. Eggs hard boil, chop and add the cabbage and pepper.
3. Divide the dough into 15-20 pieces, each roll into a ball. Then salmon cakes, put the filling in the center, zasypnica region.
4. Lay the patties on a greased baking sheet seam down, cover with a towel and leave for 20 minutes.
5. Preheat the oven to 190°C. Whisk the egg yolk with milk and brush the pies. Bake cakes for 25-30 minutes, until a beautiful Golden color.
Tip to choose a quality head of cabbage, squeeze it slightly between your palms. If the cabbage is deformed, then she is immature. In addition, the sprouts should be bright green, and on the cut – white. If the color is dark brown, it means that the cabbage was stale.
Pizza with ham and mushroomsWhat you need:
500 g leavened dough
400 g mushrooms
200 g ham
200 grams of cheese durum
2 tomatoes
1 onion
2-3 tbsp of ketchup or tomato sauce
2 tbsp vegetable oil
How to cook pizza with ham and mushrooms:
1. The mushrooms and onions slice and fry in a pan in vegetable oil, cool.
2. Preheat the oven to 220°C.
3. Divide the dough into two equal parts. Cut two sheets of baking paper the size of a baking sheet.
4. On each sheet of paper, roll one part of dough into a thin layer.
5. Brush each layer of dough with ketchup or tomato sauce.
Put the mushrooms with onions.
6. Ham and tomatoes cut into thin slices and place on the mushrooms.
7. Cheese grate on a coarse grater and distribute evenly on both pizzas.
8. Put one pan in the oven and bake for 10-12 minutes. Remove the first pizza and bake second. Serve pizza hot.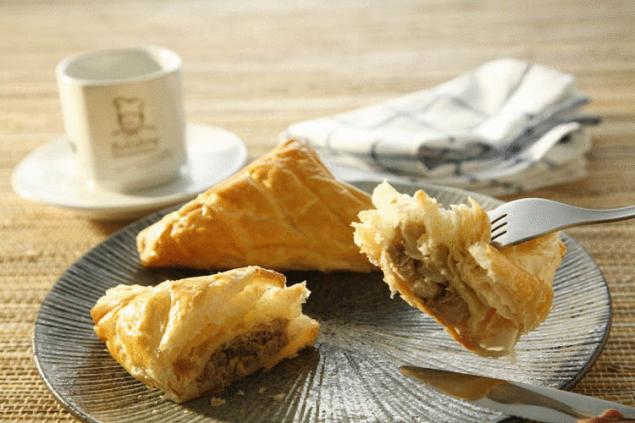 Puff pies with tunayou need:
400 g puff unleavened dough
1 Bank of canned tuna (you can substitute canned salmon)
1 sweet pepper
1 onion
1 egg
1-2 cloves of garlic
½ bunch of dill
1 tbsp vegetable oil
How to cook a puff pie with tuna:
1. Preheat the oven to 180°C. sprinkle a Baking sheet with cold water and cover with baking paper.
2. Finely chop the onion and fry in oil. Add the diced peppers and cook until soft.
3. With tuna, drain the liquid, mash with a fork. Add the onion and pepper, chopped garlic and dill, stir.
4. Roll out the dough to a thickness of 2-3 mm. Cut the dough into squares of 8-10 cm
5. Put in the middle of the stuffing. The edges of the squares brush with egg and zasypnica.
6. Place patties on the prepared baking sheet, brush with egg and bake for about 25 minutes. Serve hot.
Royal cheesecake with strawberries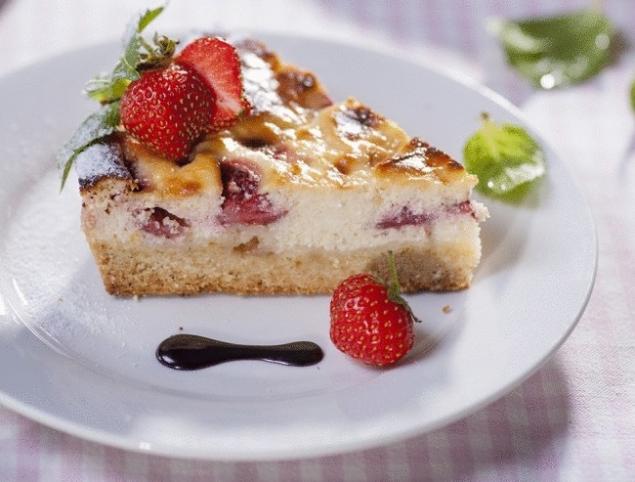 What you need:Dough:
400 g flour
200 g butter
150 g icing sugar
2 tsp baking powder
1/4 tsp salt
Filling:
600 g of cottage cheese with a fat content of 5-9%
100-150 g sugar
2 eggs
200 g fresh or frozen strawberries (you can substitute peaches, raspberries, apricots or raisins)
1 tsp vanilla sugar
butter – for greasing forms
How to make Royal cheesecake with strawberries:
1. Preheat the oven to 170°C.
2. Sift the flour into a bowl together with the icing sugar, baking powder and salt. Butter cut into cubes and with your fingertips mix the flour mixture into buttery crumbs like wet sand.
3. Curd wipe through a sieve. If there is no time to bother with the sieve, you can grind the cheese using a meat grinder or blender.
4. Whisk eggs with sugar and vanilla sugar in a lush light weight. Connect with the cottage cheese, stirring from the bottom up.
5. Strawberries cut. If strawberries are small, simply cut it in half. If berries are large, you will have to cut them into 6 pieces. And don't forget to leave a few whole berries to decorate the finished cheesecake! Add berries to cottage cheese and mix.
6. On the bottom of the form put a sheet of baking paper. Grease the sides with butter. Turn the dough out, flatten and slightly press down with hands or spoon. Then put the stuffing.
7. Bake for about an hour, till the filling is Golden and will not bounce when pressed with your finger. Ready move pie to rack and cool completely in the form.published  
P. S. And remember, only by changing their consumption — together we change the world! ©
Source: domashniy.ru/