Fall is the perfect time to make fragrant cakes. But don't get hung up on the Apple cakes, pies with pears turn out not worse.
There are plenty of recipes for pear cakes. Very tasty and flavorful with a pie, made in the French style: baked pear, a mild protein cream and cinnamon complement each other.
By the way, baked a cake pretty quickly, so it's very easy to cook at home.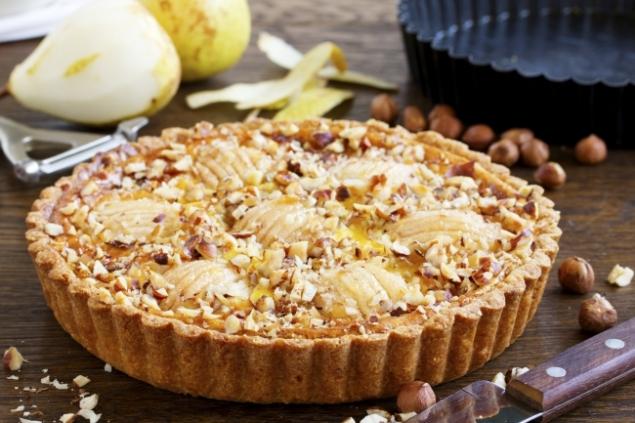 Apple Charlotte — it is good, and pear is even better! Photo: thinkstockphotos.com  
RECIPE PEAR PIE IN FRENCH
What you need:
1 tbsp. flour
2 tsp sugar
1 g of soda
1 g of salt
50 g butter
1 egg
2 tbsp powdered sugar
30 g almonds (you can substitute hazelnuts)
50 ml of milk
3 pears
2 tsp lemon juice
sugar, cinnamon – for sprinkling the pie
vegetable oil for greasing forms
How to cook a pear pie in French:
1. Sift flour in bowl, add sugar, soda, salt and softened butter. Knead the dough, then carefully roll and put into a form, greased with vegetable oil. Don't forget to do the sides! To put the workpiece in the fridge for 20 minutes.
2. For the filling, separate the white from the yolk. Protein to combine with the icing sugar and beat in a solid foam. Grind the almonds and pour in the beaten egg whites. Stir and pour in the milk. Again stir gently.
3. Pear peel and seeds, and thinly slice. To the fruit is not darkened, sprinkle with lemon juice.
4. To get the form with the dough from the refrigerator, spread protein-almond cream, spread on top of pears. Sprinkle with sugar and cinnamon. Bake in a preheated 200°C oven for half an hour. Serve pear pie can be both hot and have cooled off.published  
P. S. And remember, only by changing their consumption — together we change the world! © Join us at Facebook , Vkontakte, Odnoklassniki
Source: domashniy.ru/