We promised to share with you the stories first hand, about how moms give birth to their own business and manage to combine it with raising a child. This time my experience says Anastasia Tomsk, painter-miniaturist, who after the birth of her daughter has made a hobby of producing doll houses your business. And a daughter Alice, which is not yet three years old, among other things, helps her in trades.
How it all began
Thirty two million three hundred seventy thousand nine hundred thirty
One of the miniature houses. Photo: from personal archive "When I realized that my husband and I are having a baby, I never meant to leave her main job. I was the press Secretary of the Moscow theatre, loved our group, and already in the colors I imagined how to put a cradle in his office with the baby in the sling will meet the guests at the premieres. But by the fifth month of pregnancy, began disaster: I began to forget everything. Everything. Words have ceased to take shape in sentences, and a page of text I wrote two days is a maximum of couple of hours. And it became clear that the employee I'm a bad. Not to let down the bosses, I went on maternity leave. At first I was sure I'd be back in six months. Then a year later. Now the child is two and a half... And in the beginning of the decree I hit the first major order for dollhouse miniatures, followed by the second. In General, I was waiting for an Ambulance, believing the fight, and quickly completing the doll for a Christmas play Director of Ruzanna Movsesyan. By the way, I am an artist-miniaturist. Make miniature houses (what in the world is called dollhouse) classic gaming miniatures scale 1:12. In parallel, run several lines of jewelry. This ornaments-miniatures: with cakes and coffee cups, and glass ornaments with sandy beaches and thickets of Heather inside.
Fifty million five hundred seventy four thousand eight hundred eighty nine
This ring. And Yes, it is – for most ordinary clothespin. Photo: personal archive I always dreamed about this: to sit in the Studio and long nights to do something that will please people. And I may be, I will get paid for it. Dream: the long night, workshop, model knife, wood, gold leaf, stains, paint. And a queue of customers that want to get a house. And now I sit in the Studio and at the same time am four houses, three of which are already booked. For the first time after giving birth, I went to work when my daughter was three weeks, and it was a kind of challenge to the world. I was in pain the first feedings, persistent lack of sleep, a strict diet. I had no idea it would be so hard – and so scary for this tiny creature. To somehow pull yourself back on course, I began to do a new house. I still remember: daughter sleeping in room and I sit in the kitchen and krivas pain in the suture after cesarean section, cut a thick cardboard. At first I was working in rubber gloves: if a child started to cry, it was possible quickly to remove them and escape, otherwise we would have hands the paint to wash off. Workshop child: how to combine
Thirty five million eighty one thousand two hundred seventy seven
Photo: from personal archive. A little hand – Alice my Mother was a little nervous, fearing that I will not be able to establish the right balance between work and Alice. And it seemed to me then that the baby, all in lace and in white, would be nice to sit in your high chair, and I at the table in the workshop. Yeah, right now! Daughters for two and a half years, and I'm still working only at night. For a long time she did not show any interest to my workplace. Only when I started to sit and barely walk, bits of plastic and cardboard, and in particular an awl and a drill bit coupled with a sharp layout knife become keenly interested. However, we very quickly explained to the baby to touch mom and dad's stuff – absolutely not. She knew it before was able to say the word "Give!"so we didn't have to hang the lock on the door of the workshop. At some point Alice tried to pull in the mouth of different things, but I was raised that it is, in my opinion, was terribly frightened and no longer wants to check out my dad's nerves. Now my daughter has a little help: can paint the desired area with a brush, can test the strength of a piece of furniture, Yes, so biased that we jokingly call her the tester. It is not without whines when Alice knows where I have tiny dishes, she has carried me in his toys a bunch of cups, and is now begging a copper teapot. Will not give up: he is in me. Of course, this whole Workshop is only possible thanks to the full support of her husband without him and his help I would not have mastered it all. He praises, criticizes, and helps in particularly difficult technical points. And, of course, it depends on our financial security. Performance I low, so I'm just doing one house in two or three months. But terribly proud of the fact that demand exceeds supply!The child as the helper in business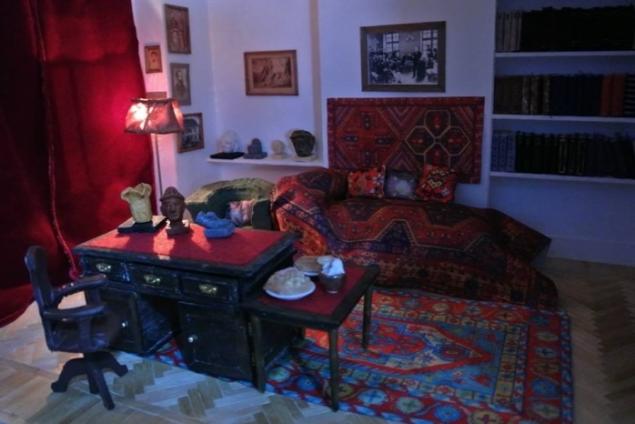 The office of Dr. Freud in miniature. Photo: personal archive I never thought that the child is the litmus. I once spontaneously came into a gallery to talk about my sales – with Alice, who was sitting on jobsite. She was not even informed, and she looked like a normal baby, not yet able to walk and talk, but who can drool the first teeth and cooing. Got a very friendly, beautiful, expensive-dressed, trim-looking owner of the gallery... and see the child. The expression of disgust combined with some fright never left her face throughout the meeting. Of course, cooperation has not happened. And then I read a tiny lecture about dollhouse on the Night of theatres in the Moscow theatre the BRIDGE... We went there all together and took Alice with him. It was her finest hour. She wandered through the foyer, and for some reason everyone was happy to see her. It was incredibly nice.Baby and business: what are the difficulties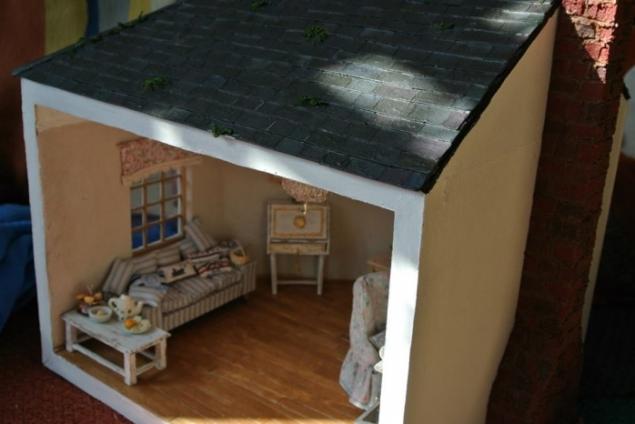 Photo: personal archive I still refuse to exhibitions and markets. I really, just really want to take part in them: before the baby I had only a couple of times to feel the beauty of this camping, fairground of life. And still does not work... Recently, I was invited on an incredible market, one of the most famous in Moscow, and this day just got "medical" clinic day. Well, quietly polygala in the bathroom, went further. And then I can't imagine what it's like to get away from the child for three or four days and see her only sleeping. The contradiction is obvious, but I almost learned to go with the flow and endure. Of course, I'm tired: up at half past eight, or seven, if you go to English classes. NAPs my daughter went almost immediately out breastfeeding. To walk, to play, to read, to clean up. Cook, of course: I try as best to indulge her husband's delicious food, often baked pies. Sleep our darling only upbeat at half-past nine in the evening, and we go about two or half past two. The whole evening is mine. What I want – and sawing. Perhaps it would be possible for us as adults to be laid before, but that means I won't have time to do, and without jigsaw and pieces of wood I wither like the Heron. My mood plummets instantly. To combine all it is difficult but possible – just because I really want to. I am one of those mothers who want somewhere to recharge, then to give that energy to the child. As I charged in his workshop. Our workshop for seven years, and actively we work for two years, and only now slowly starting to get a plus. It is also clear: dollhouse-miniature – unusual for Russian companies product, piece goods, besides, each house is entirely done manually, and therefore we have low performance. One lady, upon hearing about my prolonged maternity leave, said dismissively: "Oh, she's one of these that cook borscht and knit socks!"Yeah, I'm one of those. And I'm not ashamed".
Fifty six million three hundred six thousand eight hundred eighty
Photo: from the personal archive of the Author Anastasia Tomsk  
P. S. And remember, only by changing their consumption — together we change the world! © Join us at Facebook , Vkontakte, Odnoklassniki
Source: letidor.ru/article/dollhouse-detyam-ne-pomekha_-i_160294/