Courgettes are surprisingly delicious when you combine them with mint, and even better with cheese.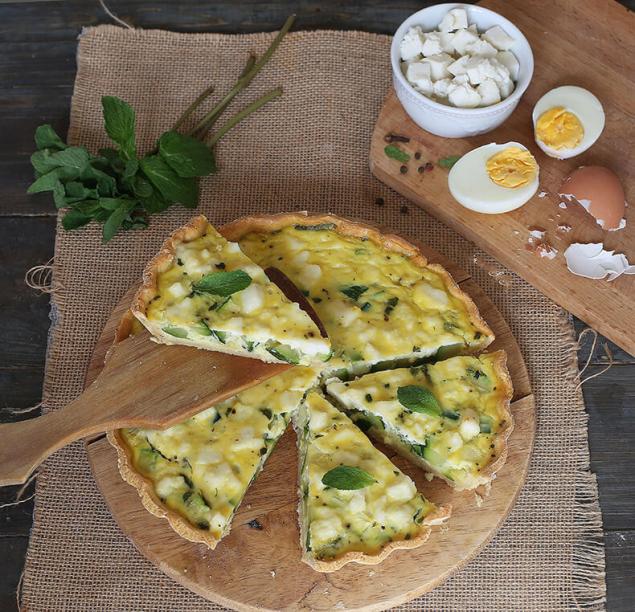 Ingredients:
220 g flour
150 g butter 82% fat
1 egg yolk
a pinch of salt
For the filling:
100 g goat cheese
2 eggs
150 ml whipped cream
2 small zucchini zucchini
2 cloves of garlic
3-4 sprigs of mint
2 tbsp olive oil
grated nutmeg pinch of
salt, freshly ground black pepper
How to prepare: Step 1
For the dough flour and salt sift in a bowl, add the diced butter, grind until crumbs. Slightly whisk yolk, add in the bowl, knead a smooth dough, pouring a little cold water if the dough is crumbly. Form the dough into ball, refrigerate for 30 min.
Step 2
Roll out the dough between two sheets of baking paper. Remove the top sheet and gently place dough into the mold for tarts with a diameter of 24 cm so that the paper is facing up, and remove the base in the fridge for 30 min.
Step 3
Preheat the oven to 190 °C. Trim any excess dough, pour in the based on the paper dry beans or baking beans, place in oven for 10-15 min.
Step 4
For the filling zucchini clean (young zucchini can not be cleaned), cut into cubes, garlic peel and chop. Fry the vegetables in olive oil until soft. Remove the mint leaves from the sprigs and chop.
Step 5
Lightly whisk the eggs and cream together, add pepper, salt, nutmeg, mint and zucchini, stir.
Step 6
Remove the cargo and paper, put in the filling, sprinkle crumbled cheese. Bake tart until tender, 20-25 minutes. Serve warm or cooled.
Cook with love ! Bon appetit!  
Cold soup of avocado and cucumberPerfect homemade sourdough bread
P. S. And remember, only by changing their consumption — together we change the world! ©
Source: www.gastronom.ru/recipe/30154/tart-s-kabachkami