Children call me Bok, and mother-in-law does not greet.
I wanted to make my family happy. I became a householder for a long time - almost 3 years ago. For me, it's like an eternity! Motives? There are several. Firstly - who said that this woman must put an end to his career and to wallow in the home? Secondly, I believe that should be done by one who is better at it. Thirdly, I am used to go against the crowd and I hate stereotypes. No, I did not want to show off. I wanted to make my family happy. This is one of man's problems.
the text under the cut
a source at the end of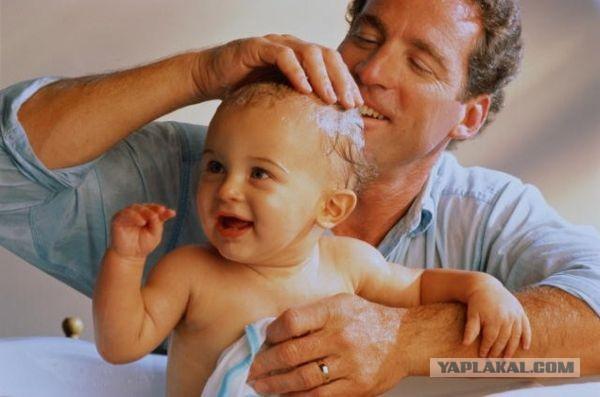 My wife - a real fighter. She loves her job (she had a small private business that we have created at one time), and she was given a very difficult transformation into a young mother, although the first-born, we carefully planned. Actually, Olya likes to plan everything. But our second baby's fate has given us spontaneously immediately after the son. I'm worried about his wife, who dreamed of a job, people, new achievements. No, I do not want to say that she was a bad mother. On the contrary, supermom, you might say. But the news of the imminent birth of our baby her stunned. Then I decided that I will take everything in his strong hands. Let the only favorite to be happy.
At first it was scary!
Four months after the birth of her second child Olya spent at home, and then I took the post. It was very scary! First, a couple of weeks I helped my mother, and then I decided that all I can. When my first morning, "housewife" his wife closed the door - I was sweating. I thought that can not handle. But the panic passed quickly, I learned. Son has always been a difficult child with him is not easy. A daughter - very calm. Only sleeps and eats. It helps me a lot. Nikita drank all the juice out of me, but my daughter did not cause any trouble. Although I thought it would be the other way around. The son calls me Bok. In the garden we do not walk, so he did not think that I - a special dad. For him, I am the one to whom he can always rely on and with whom you can play football and «Angry Birds». I wish that in the future, Nikita happily recalled his childhood. Sonia calls me Dad with the accent on the second syllable.
Cleaning the house I do not do. For me - great food, a full refrigerator and happy children. Everything else does a dishwasher and a wife. Ole should pay tribute. I've never heard of it, I'm tired, let me sleep (as it usually happens with working fathers). She arrives late, puts the children, cleans. On weekends, I go shopping, do some household chores, cook Sunday dinner, which we call friends. And Olya entirely at the mercy of children.
No prize will not replace my child's smile
Friends do not understand me. It is believed that I was doing stupid things and sit at Oli henpecked. This is not true. To assist and protect his woman - that's my main goal as a husband. There is no "Babskii" work and men. We share equal grief and joy. Sister of constantly nagging me for a career. But I do my job never liked office irritated me, like routine, which was being cooked. When the kids grow up, I plan to work together with Olga, to somehow expand the business. In the office plankton not coming back. No prize will not replace me smile my baby!
Mother-in-law I somehow ceased to respect after I made her daughter happy. And I said: Thou art for me is not man, but "wrong"! And ... no longer greet. With her and tried to talk to my mother, and my wife and myself. But the mother-in-law was the "Iron Lady", appeals to me through his son or his wife and does not accept invitations to family events, and look just kills. While I am holding on, but the nerves coming to an end. I still remember the eyes of my director, I said that I was going on maternity leave. He was sure it was a joke. I think that our colleagues behind times of change my bones and called a loser.
Young Mumford "colleagues" ... I hesitate
Surrounding me and two children react well. We also have a dog that drags at times Sonya's stroller. From the looks ridiculous. I just adore her neighbor! After all, I always home and can help them remove the screw in a light bulb or a cat from a tree (the neighbor's cat specifically mocks me and stuck in a tree a couple of times a week!). Mothers from the sandbox to him first were not allowed at all, and now seems to be accustomed. But sometimes you have to close your ears when they give birth to women's issues too. Generally, I try to keep them apart. Because it is still a little shy. No, what I - "young dad", but rather - of themselves.
Once there was a conflict with the pediatrician, who somehow did not trust me and demanded "to call my mother." In my logical question "why" it has issued: because the mother better understand the diseases of children and remember all the ailments of the children to the birth! And here I have it like an ax head: I'm on maternity, children and my wife is engaged to a lesser extent. By the reaction of the doctor, I realized that she had heard such stories rarely.
If we could all turn back - I would not like to change. I have a wonderful family, we are happy. What else is needed? I am absolutely satisfied with my life. Only here the mother-in-law would not experience so much that I am no longer a man - all would be great. For friends and relatives do not mind, they just are not as liberated people like us. I am generally a very quiet person, I am not easy to ruffle. But for my family, I'll be standing mountain.
My wife and I dream of a country house. Sonia is a little older and start to build a house. If Olga give me a third child, I did not hesitate to go back to the "householder". I'll tell you a secret: I even dream about it! Probably, household and fatherhood - is also a certain relationship, but damn nice!
The names of the characters changed for ethical reasons.
Author: Marina Markhel
source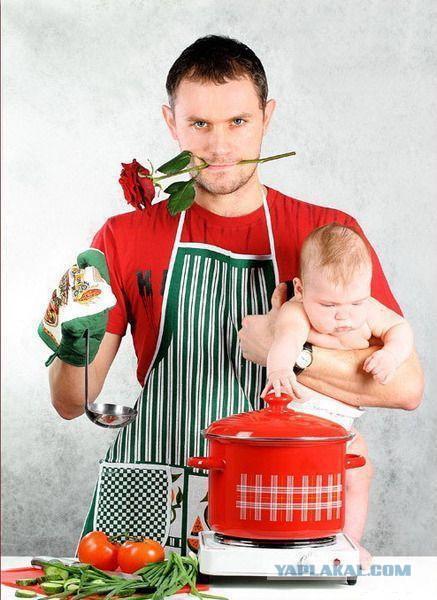 Source: