< Boris Bitner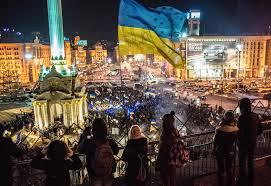 Sometime in Literaturka was such a topic: If I was the director.
There is much talk about the fact that "Three heroes" all lost. Lots of fun and joking about it on the Internet. I have always enjoyed our sense of humor - well, where else so able jiving over everything and everyone? Nowhere. But the next time you see a particularly funny fotozhabu our united opposition remember how blizzard "Berkut" to spend the night on Independence protesters, journalists and maimed as those caught up in Bankova, and may be held desire to laugh. On the couch and all computers are smart. And if you "was the director?" You'd better left?
I do not like our Oppo. I'm sorry, I do not like. But could I myself razrulit the current situation? Could take advantage of? What goals to pursue, if there had been led such a huge movement? I do not know. And I'm not making fun of pulling it.
What would I have done? Today? At The Moment?
1. I would first of all made every effort to pull out from behind bars Nine arrested. Would require evidence of their guilt. Would this problem and the main vowel. Understand and release the innocent. Punish the guilty.
2. give maximum publicity and would make the power under the control of the activists of the Maidan investigate the case of the missing during acceleration Maidan on the night of 30. If these people have gone through the fault of Special Forces, then we are dealing with the Tonton Macoutes, and not with the riot police. < br /> 3. Azarov, of course, not a cake, but after the failure of a vote in parliament until February untouchable. Leave a linguist alone. Let sends a delegation to Barroso and prepare a road map! It is not yet get it! But ... It is necessary to establish who gave the order to disperse the Maidan on the night of 30 and who organized provocation Bankova. As I understand 3 people in the state could give such an order. It would be nice to find out - who exactly? And demand his resignation and his trial.
4. Lutsenko, panels and other commanders of the Maidan, there is an experience of its organization. Independence in 2004 was excellently organized protest, with his security service, managers at various levels, rigid internal discipline and personal responsibility for the area of ​​work. Hats off. The current Maidan, IMHO, is organized much worse. It began as a spontaneous and, unfortunately, continues the same way. If people took him outside, they need to ensure safety. Now it looks like it started to do. I would invite someone from the "stars" of 2004 and paid maximum attention to the organization.
All. 4 problem. In order to solve political problems, it is necessary to make sure that people were not injured. And if they have suffered, solving your problem, then try them out. If someone is maimed, killed or kidnapped because of you, to identify the perpetrators and to ensure the strictest punishment. It is desirable that a constitutional way. People - the main strength of this protest. The task of the leader - to take care of them.
And what would you do, username? What would you do, "if I were the director?"