There were 19 countries: Russia, Belarus, Poland, Czech Republic, Germany, Netherlands, Belgium, France, Spain, Monaco, Switzerland, Italy, Vatican City, Slovenia, Austria, Slovakia, Hungary, Ukraine, Moldova.
Have you seen the seven seas: the North Sea, the Mediterranean (Balearic, Ligurian, Tirenskogo Adriatic), Black, Azov
Description great as lay - I write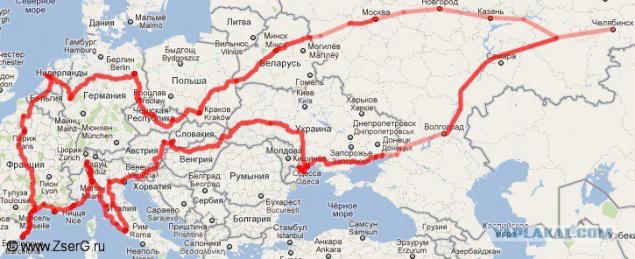 The upcoming trip loomed the longest and richest in the number of visited countries, cities, seas, etc. Well, of course, the most expensive. Despite this, the preparation for it started later than the previous. Visas and those received almost a week before departure.
Of course, not without its difficulties. Six weeks before the expected start ZserG`a taken to the ambulance - acute appendicitis. Then followed a complication of surgery and, as a consequence, the ban doctors to ride a motorcycle next couple of months.
However, for a couple of weeks before the start of ZserGu little relieved, and it was decided to go. "If anything, immediately go back," we decided.
True, ZserG not had "rolled-in" to the new TDM900, and start the day in the run was for him only the second exit on TDMke season. The first departure was a trip for a visa at a nearby Yekaterinburg.
Finally, after all the documents, things were stacked, to finish the route, and we were ready to leave.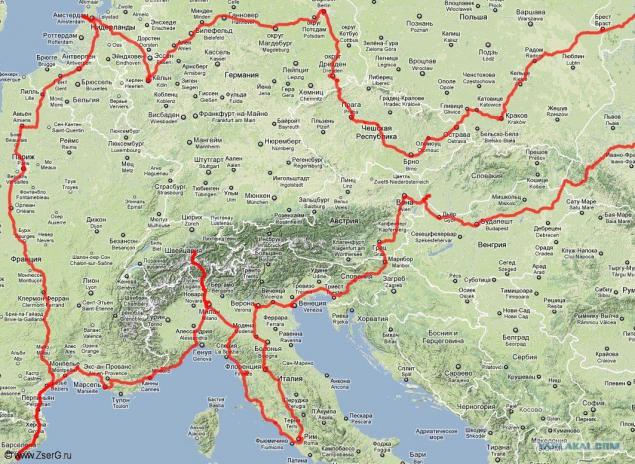 Unlike previous visits, this year we laid things before, and decided to move out in the morning. It should be noted, all previous times were nominated out of the house, at best, an hour at 2pm.
Handing the keys to the apartment the parents and the instructions for the care of a hamster, early in the morning, the cool moved in a way pre-pasted on the tank brand new stickers with the flags of the countries that we had visited in previous years.
Overcoming trite to nausea road over the pass, at about 16:00 got to Ufa. Hardly had pulled away from the cafe, where we stayed for lunch - in the tail rests on our car with flashing lights DPS. Dragged behind wagons had no desire, and the sign overtaking prohibited nobody canceled ;-) turns out, we did not stop on request. After a short conversation, leaving the world, even without getting a penalty.
After another hour of clear and warm in the morning the weather began to deteriorate - the sky became blue-gray clouds, and then we all moved into the center of terrible rainstorm. Visibility immediately dropped to zero, absolutely all the cars stopped along the roadside cafes and. And we had to hide under the canopy cafe. When half an hour later rain verse throughout the asphalt covered by 5 cm water.
Rest of the day just went, stopping only to refuel.
Around 23:30 Chelyabinsk spent the night in 90 km from Kazan.