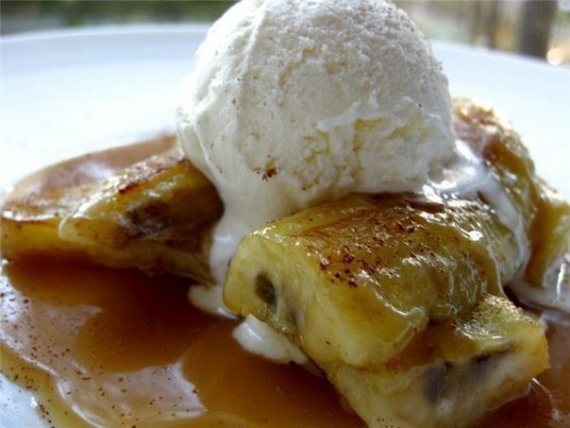 Ingredients for 4 servings:
4 banana
100 gr. butter
125 gr. brown sugar
125 ml. cream 35%
a few drops of lime or lemon juice
vanilla ice cream
ground cinnamon or nutmeg
Preparation:
Clear bananas, cut in 4 pieces, then cut each half. Melt the butter in a frying pan and fry the banana halves until they are lightly browned (30 sec. On each side). Slotted spatula to pass on to a dish.
In a saucepan, mix the sugar and cream and heat gently until the sugar has dissolved. Boil over very low heat for 2-3 minutes, until the mixture thickens. Add lime juice / lemon.
Bananas to sauce and serve with a scoop of ice cream, sprinkle with cinnamon or nutmeg.