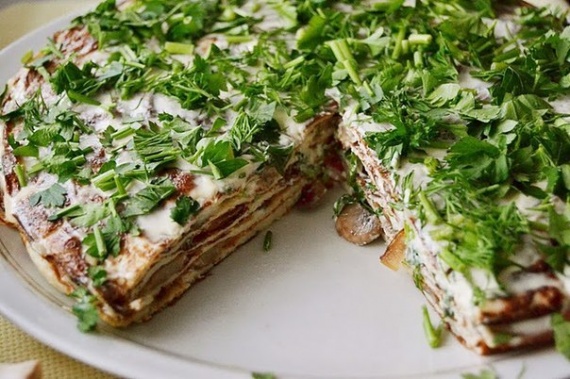 For the omelet:
6 eggs
200 ml of milk
Article 4-5. l. sifted flour (but if you want to make a "cake" as far as possible the egg, then add the minimum number of flour)
Dried basil
salt and spices - to taste
For the filling:
200 grams of mushrooms
medium onion
salt and spices
mayonnaise (can substitute sour cream)
1. Mix together the ingredients for the omelette.
2. Mushrooms finely chop, chop the onion half rings, propassirovat.
3. Add salt and spices.
4. Fry omletiki as thin pancakes.
5. While fried omelet the next, the first smear mayonnaise and put the stuffing, and the top came to the rescue following an omelet.
6. Last smear mayonnaise and decorate with greenery.
7. It is advisable to put in the refrigerator overnight to soak.