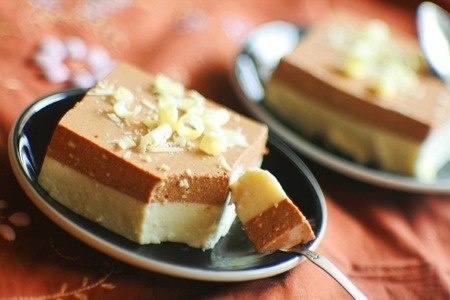 Ingredients:
30 - 40 g of gelatin
2 tbsp. milk
500 g low-fat cottage cheese
400g low-fat sour cream or yogurt
3 \ 4 tbsp. sugar (if you replace the calories that stevia is much smaller)
vanilla to taste
2 tbsp cocoa
Preparation:
Gelatin pour the milk and leave to swell 1 - 1, 5:00. The swollen gelatin is put on low heat and stirring constantly, bring to a complete dissolution. In adding the gelatin to the milk sugar and vanilla sugar and stir until complete dissolution and allowed to cool to room temperature. Cottage cheese through a sieve or using a blender to a paste-like consistency. Adding the mixture into gelatin cream, mixed well and mix with curd massoy.Razdelyaem mixture into two parts, one adding cocoa and mix well. In the form of a light layer of fill and send in the refrigerator before freezing. Or you can put the form in the freezer for 15 minutes - 20. When the first coat hardens, pour a second and then send zastyvat.Kogda dessert completely hardens, it can be cut into portions and garnish with slices of fruit or chocolate.