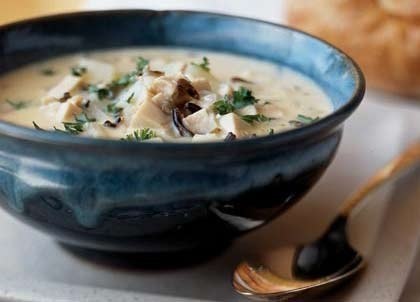 Ingredients:
Wild rice - 1 cup
Sliced ​​onions - 1 cup
Garlic - 2 cloves (crushed)
Low-fat chicken broth - 3 cups
Potatoes - 1, 5 cups (diced)
Skimmed milk 2% - 3 cups
Flour - 1/3 cup
Low-fat cream cheese - 300 g
Chicken breasts - 2 pcs.
Freshly ground black pepper 1/2 tsp
Salt 1/4 tsp
Chopped fresh parsley - 1/4 cup
Preparation:
1. Boil the wild rice according to package directions, without salt.
2. Boil chicken until cooked, cool and cut into small pieces. Another large pan / roasting pan set over medium heat. Sprinkled with water or pan add a little oil. Add the onion and garlic and passeruem about 3 minutes.
3. Add broth and potatoes, bring to a boil over medium heat. Cover the pan with a lid, reduce the heat and cook until until the potatoes are tender.
4. Mix the milk with the flour, whisking thoroughly whisk to avoid lumps. Add the milk mixture to the potato mixture, cook 5 minutes, stirring constantly, until slightly thickened. Remove from the heat, add the cheese, stirring until cheese melts.
5. Add the wild rice soup, chicken, pepper and salt. Optionally, you can decorate with parsley soup.