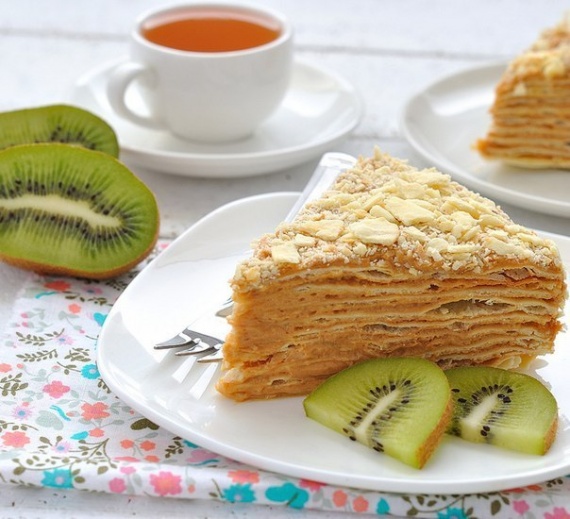 dough
80 gr. butter
100 gr. sugar
2 eggs
300 ml. milk
1 \ 2 tsp. Baking powder
1 \ 4 tsp. Salt
vanilla to taste
800 gr. flour
Cream
500 gr. condensed milk
700 ml. cream 33%
500 ml. milk
2 eggs
4 tbsp. spoon starch
sugar and vanilla optional
Beat the softened butter with the sugar until white, separately stir milk and eggs, add oil, 150 gr. Mix flour with salt and baking powder, sift into butter and milk, stir well, often adding the remaining flour to knead a smooth dough, cover it with a bowl, let stand for 30 minutes, then divide into 20 equal parts.
Oven heated to 180-200 degrees, lay a baking parchment.
Roll out a thin cake, I was rolling almost to transparency, size, yet leave an arbitrary, trim crusts better after baking.
Bake cakes until light golden brown, cut to the desired diameter slightly better warm ostyvshimi they become brittle, cool on a lattice.
To mix the cream in a bowl until smooth eggs and starch, milk, bring to a boil, add the eggs and starch, stir cook until thick, cool and beat up with condensed milk, separately whipped cream, custard mix.
Fluff cream cakes, from scraps to make crumbs, sprinkle the sides and top of cake.