1 Napoleon "Family tradition"Cakes:
3 cups flour,
250g margarine
3/4 Cup water (very cold!),
0.5 tsp. slaked soda.
Sift the flour into a large bowl, put 1 pack of margarine (at least half an hour, let stand at room t) and chop the flour with the margarine with a spatula in a fine crumb. Now add water and knead with your hands, in the end, add 0.5 teaspoon of slaked vinegar soda and then slightly knead in the bowl in the fridge for an hour; let it rest.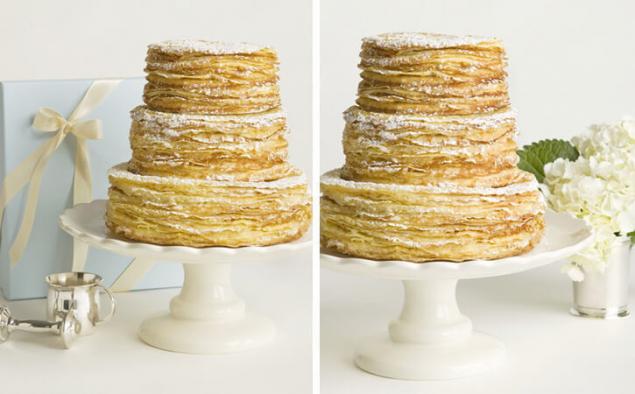 Custard:
Take 2 packs of cream (10%), in a saucepan, over there a Cup of sugar and stirring bring to boil. In a separate mug, mix a little more 1 tbsp flour and 1.5 tablespoons of starch, gradually pour in one package of cold cream (ie just get a three pack of 200ml), the mixture has no lumps, knead well. Pour this starch-flour mixture into the boiling milk with sugar, not boiling and remove from heat at the time of infusion that will not run away.
Pour on the principle of cooking the semolina a thin stream stirring constantly (Very important!); or lumps are formed and then the cream failed! Species and density are obtained as decoys.
To cool the cream. Is cold (at room temp.) stir in cream pack (250 g) of butter (pre-softened at room temperature). Stir in first the fourth part of the oil, beat on low rotation mixer, then add another and another and beat well (but not perevarivat) the cream will get quite air.
Back to the dough:
Divide the dough into 7 pieces. Piece roll into a ball, on a floured table roll out thinly into a circle. Measure lid (or something else) and shift with the help of a rolling pin on a baking sheet (no grease), prick with a fork and put in a preheated 200 degree oven for 4-5 minutes (until it starts to brown, pull on the Board, and put the following in to bake. To postpone two of the best crust top and bottom. The worst is the sprinkles on top.
Further non-classical approach to Napoleon (but the recipe is our family; to retreat not eligible! ).
Take the Cup of walnuts (can be more) and grind (but not too much, the pieces should remain). The cake topping grind. Now how do I: laid out on the table all the cakes and lay them on the cream (to evenly distribute), on average, two to three tablespoons.
We add: cake with cream, nuts, cake; in the end sprinkle with nuts and sprinkles (cake, topping a little more dry in the oven; only to not burnt). Top to gently press the cake with your hands and leave at room temperature for 4-5 hours, then refrigerate. Cake in our family is very popular — and like all our and other people (guests I mean). It turns out creamy, but the fat content of the cake is not felt at all! However I find it difficult to evaluate itself; still, for me, it tastes familiar from childhood.
Cake Napoleon: the 2nd recipe
500 g butter,
4 cups flour,
1 teaspoon salt
1 Cup of cold water.
Two tablespoons of oil to separate from the piece and blend it into squares of 1.5 cm, the remaining oil to hide in the refrigerator. Sift flour, mix with salt, knead it with powdered butter, gradually adding water.
The resulting bundle of roll into a rectangle, in the middle of it to put the butter out of the fridge, wrap the edges and roll out. Then fold three times and roll out again. Then putting it all into 20 minutes in the refrigerator.
And then two more times to fold in three, roll again for 20 minutes in the refrigerator. Then, you need to get the dough, divide into three parts, roll out a layer of about 0.7 cm. And bake the cakes for 10 minutes on high heat or for 30 minutes on low.
Napoleon cake: 3-y recipe
3 cups flour,
1 egg,
250 g butter,
0.5 teaspoon of salt,
3\4 Cup water,
1 tablespoon of vinegar.
Two cups of flour pour on the Board and chop with oil, to build from the resulting mass of the mound and slowly pour in its center the water and egg, mix it with salt and vinegar. Knead dough, adding remaining flour. Then divide the dough into 8-9 parts. To put it in cold for 1 hour, roll out the cakes.
4 recipe: French version of Napoleon, which is there known as Kremesh
Cream kind of custard variation, the composition is slightly different — starch-milk. And yet — as the Slovak cream holds its shape better because of the starch, it do and put a lot more.
First baked 1 pound (roughly half a kilo) puff pastry ready 10 - 15 min. the Dough is rolled out to size of baking sheet. Cream: 2 liters of milk, 8 eggs, divided into whites and yolks, 14 tablespoons powdered sugar (400 g), corn starch 200 g
Cream
Boil approximately 1.5 liters of milk with 7-8 table. spoons of powder. The remaining milk mix and beat 8 egg yolks and whole starch. Add this mixture to the boiling milk and let it boil for 30 sec — 1 min with constant stirring. All 8 egg whites, beat the 8 table. spoons of sugar, adding it gradually whisking. Boiling milk mixture pour in the beaten egg whites and stir with a spoon. Baked and cooled cut the dough into 2 parts along the (lid and bottom) and between them to put the cream.
From the top, as I recall, was not covered. I did the 1st time — not very difficult. If you do two, then turns quickly and without hassle. The taste of the cream is more light than creamy, it air high.
5.Napoleon cake: "Honey Napoleon" For the cake:
4 eggs,
4 cups flour,
4 tablespoons honey
150g butter,
1 Cup sugar,
1.5 teaspoon of soda extinguished by vinegar.
Cream:
1l 250g thick cream,
1.5 cups powdered sugar,
1 lemon.
Dough:
Honey, sugar and butter to melt in a water bath, cool slightly and drive egg. To add repaid soda, flour and knead the dough. It turns out the oil. Divide into 10 balls and put in the fridge (in the freezer).
While the dough hardens — - prepare the cream. CREAM: RUB on a small grater lemon with peel (who doesn't like its bitterness can cut off the crust). Beat with a mixer the cream with the icing sugar, add grated lemon.
Beat again and put while in the refrigerator. Now take out one piece of dough, roll out on baking paper thin crusts, pierce with fork and bake in pre-heated to 180 degrees oven until Golden brown. Cakes it is better to do fine — they are better then impregnated. Crumbs dried was crushed and sprinkled the whole cake. But the taste is equally tender and melts in your mouth. published
P. S. And remember, only by changing their consumption — together we change the world! ©
Join us in Facebook and Vkontakte, and we're Classmates
Source: www.prelest.com/nyam/vipechka/tort-napoleon-5-luchshih-receptov