Many nutritionists and proponents of healthy eating think that in the winter it is especially important to include in your daily diet of soup. It helps to restore fluid balance in the body, prevents colds and in General is an indispensable dish. Winter demands a more serious approach to the preparation of first courses. Winter soups are usually hearty and nourishing, prepared with thick broth. They should be nutritious, so often a part of winter soup includes beans and grains. We have selected for you 5 recipes of delicious soups, warming in the winter.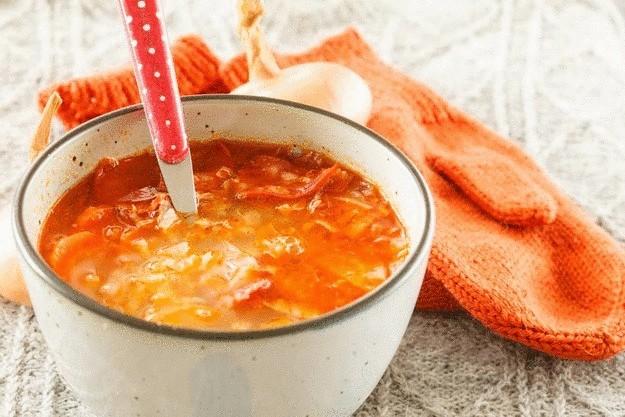 1. Pea soup with smoked Pea soup with smoked meat is one of the most popular soups in Russian cuisine. Thanks smoked it has a special taste and aroma, and thanks to the pea — beneficial properties. First, pea is valued for its high content of protein. Its the same as in meat, but to digest it better. In pea protein are essential amino acids. Ingredients:
Горох250 g
Копчености400 g
Картофель3 PCs.
Лук2 PCs.
Морковь1 PCs.
Root петрушки1 PCs.
Petruchio, to taste
Laurel Sheet2 PCs.
Oil растительное2 tbsp
Salt, to taste Perico
Method of preparation: In a pot of boiling water put the peas and cook for about an hour. Pork smoked ribs to cut the meat, and if large — cut in half. Cook like normal meat, in the broth along with the peas. Onions, carrots and parsley root cut into medium-sized pieces or cubes and fry in vegetable oil until Golden brown. As soon as the peas will be ready, add the sliced potatoes, browned vegetables and spices, cook until potatoes are done. Fill with finely chopped parsley and let stand 10 minutes.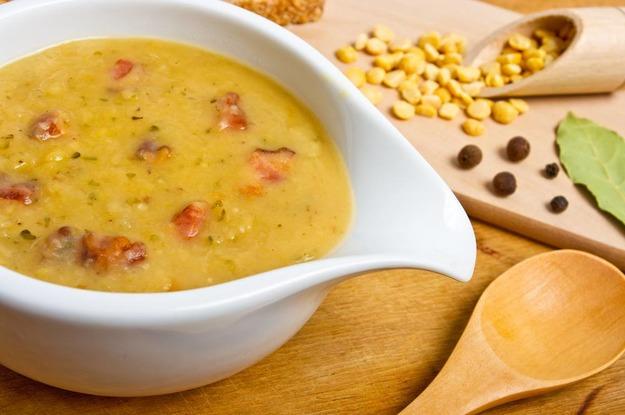 2. Soup with meatballs This soup is easy enough, but warming and satisfying. Meat is a valuable high content of animal protein, so necessary for us in winter. The soup is simple to prepare. And he reminds me of my childhood. Ingredients:
Minced мясной400 g
Картофель2–3 PCs.
Egg куриное1 PCs.
Bow репчатый2 PCs.
Морковь1 PCs.
Vegetable масло2 tbsp
Bay 2–3 PCs.
Selenio, to taste
Salt, to taste Perico
Method of preparation: Grate the onion, beat the egg and finely chopped greens. Mix it all with minced meat, salt and mold from the mixture small balls — meatballs. Boil the meatballs for 2-3 minutes and then drain the water. Meatballs pour 1 liter of boiled water, add chopped potatoes and cook for 10 minutes. Slice the carrots into strips, onion — diced. Sauté the vegetables in vegetable oil, then add them to the soup and cook on low heat for another 5 minutes. Serve with fresh greens.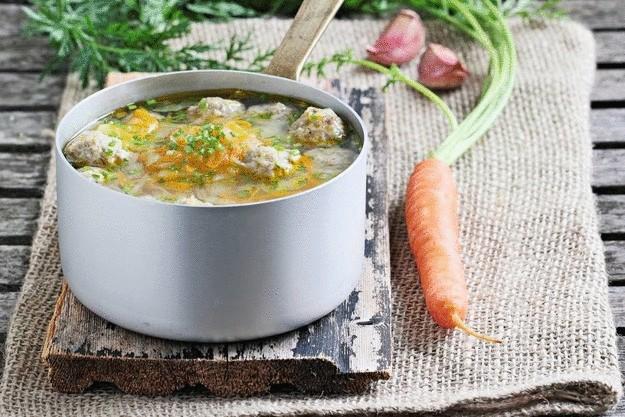 3. English bean soup Bean soup is a huge benefit to the body. Beans is among the ten most useful products. It contains good digestible protein, b vitamins, carotene and vitamin C, amino acids and minerals. Due to the content of vegetable crops it helps to improve metabolism. This soup warms and leaves us satiated for a long time. Ingredients:
Говядина500 g
Meat фарш200 g
Морковь2 PCs.
Bow репчатый1 PCs.
Чеснок1–2 cloves
Red фасоль200 g
Green горошек100 g
Green фасоль150–200 g
Картофель2–3 PCs.
Tamanta паста3 — 4 tbsp
Vegetable масло2 tbsp
Laurel Sheet2 PCs.
Sharpo, to taste
Sweet, paprika taste
Salt, to taste Perico
Method of cooking: Red beans to soak, then rinse and boil in separate pot until tender, drain the water. Meat put to boil in a large saucepan. Once the broth boils, remove the foam and add the Bay leaf. The meat is ready remove from broth, the broth, add potatoes, cut into small cubes, cook until tender. Add the prepared beans, shredded carrot, green beans, peas and soy sauce. Finely chopped onion fry with 1.5–2 tablespoons of tomato paste and add to broth. The remaining tomato paste and finely chopped garlic to add to the broth. On a separate pan put the minced meat, salt and pepper, fry until cooked and add to the soup. Also add sugar, sweet paprika, cut into small pieces the meat and cook for another 10 minutes.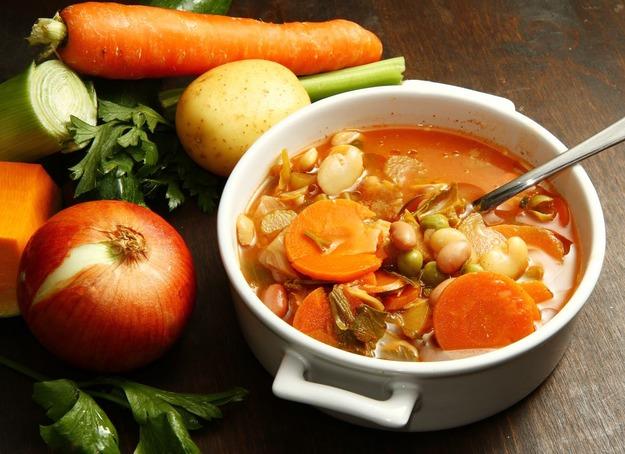 4. Chicken soup with dumpling Hot soup based on chicken broth can make the digestive tract, favorably affect the nervous system and alleviate colds. The dumplings really hit the spot with carbohydrates. Ingredients:
Курица1 PCs.
Морковь1 PCs.
Bow репчатый1 PCs.
Картофель2 PCs.
Пшеничная200 flour–250 g
Egg куриное1 PCs.
Grass sushenya taste
Laurel Sheet2 PCs.
Salt, to taste Perico
Creamy масло30 g
Method of preparation: In a pan put Bay leaf and pepper peas, chicken, washed and chopped into large pieces, peel the carrots and the onion whole. Cook over medium heat, skimming off foam. Flour, eggs, salt and dried herbs knead dense dough. Pour the water gradually, ensuring consistency. From dough to roll small balls the size of a quail egg. Leave them to dry on a floured cutting Board. Once chicken and vegetables are almost done, pour in broth, chopped into small cubes the potatoes. The remaining onions finely chop, fry in butter and add to the pot. Cooked onion to throw, carrot slice and return to the dishes. 10 minutes until cooked soup to enhance the fire and gradually add the dried gnocchi. Once all the dumplings float and boil for 5 minutes, the soup is ready. Serve with fresh greens and sour cream.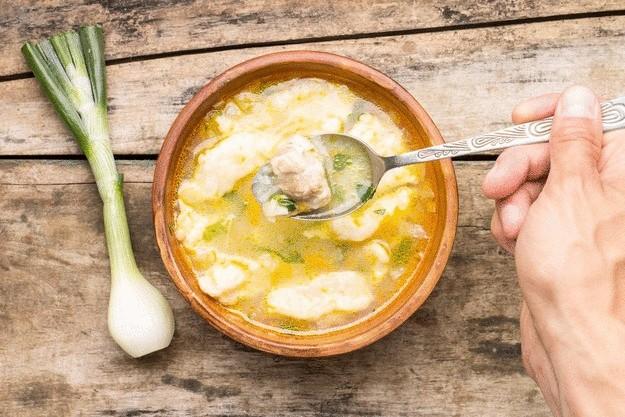 5. Tomato rice soup This soup there is almost every cuisine in the world. Tomatoes contain glucose, fructose, a lot of minerals, vitamins a, B2, B6, K, E, PP, and are a kind of antidepressant and anti-inflammatory effect. And rice — a complex carbohydrate. One of the most useful properties of rice, the enveloping effect. Ingredients:
Meat on кости200 g
Картофель5 PCs.
Морковь1 PCs.
Bow репчатый2 PCs.
Pic2–3 tbsp
Creamy масло30 g
Паста2 tomato — 3 tbsp
Laurel Sheet2 PCs.
Selenio, to taste
Salt, to taste Perico
Method of preparation: Meat on the bone wash and cook in water until the meat is tender. Cut the potatoes into cubes and add to the pan when the meat is ready. Season with salt to taste. Wash rice and send it to potatoes and meat. Onions and carrots fry in butter until transparent onions, add tomato paste and simmer for 1-2 minutes, then season with pepper and send to the soup when the potatoes will be almost ready. To hold the soup on the fire for 3-5 minutes and add the greens.
Source: kitchenmag.ru/posts/pyat-supov-kotorye-sogreyut-v-zimniy-den