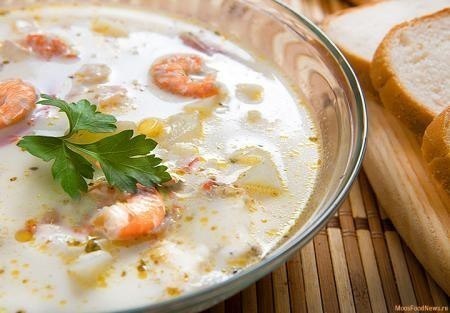 Shrimp 450 g
Sweet red pepper 2 pieces
Canned corn 350g
Cow milk 425 ml
Olive oil 2 tablespoons
Onion 1 piece
Potatoes 350g
Bay leaf 1 pcs
Dried oregano 0.5 tsp
0.2 tsp nutmeg nut
Cream cheese 150g
Broth 1, 5 - 2 liters
So, we proceed to the preparation of processed cheese soup. Take the above products.
Heat the olive oil in a large saucepan and bring it to the onions until soft, not podrumyanivaya it.
Add the peppers, potatoes, sweet corn, bay leaf, oregano and nutmeg.
Pour the broth and bring to a boil. Diminish the heat to moderate, cover with a lid and cook potatoes until tender.
Pour the milk and bring to a boil.
Put in a soup shrimp and cream cheese, salt and pepper. Cook for 3-5 minutes over moderate heat.
Processed cheese soup is ready.