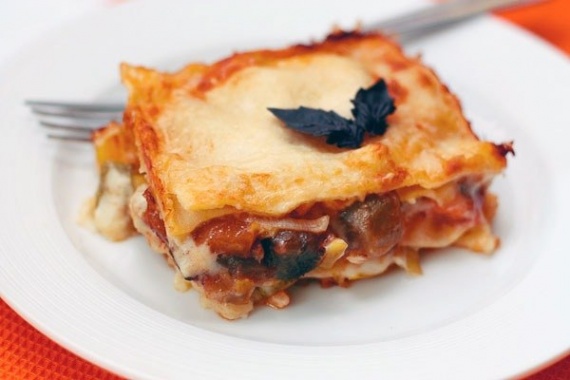 Ingredients:
1 leek
250g eggplant
250g courgettes
1 bell pepper
350g tomato
40ml olive oil
½ tsp salt
¼ tsp ground black pepper
50g butter
40g flour
500ml milk
8 sheets of lasagna
100g parmesan
White part of the leek cut into rings. Eggplant peel and seeds from peppers and cut into cubes, along with the rest of the vegetables.
Put the vegetables in a large frying pan and cook for 7-10 minutes without the lid, stirring occasionally. Vegetables should be soft, but not to turn to mush. Add salt and pepper, stir and remove from heat.
For the béchamel sauce, melt the butter in a small saucepan, add the flour and warm until the mixture comes to a boil. Stir, but do not let's change the color of the flour.
Add a little cold milk, stir until smooth.
Pour the rest of the milk, put on fire and, stirring constantly, bring to a boil. Immediately reduce the heat to minimum and cook another 1-2 minutes. Season with salt.
Oil the form and collect layers of lasagna. First, place a sheet of lasagna. Look at the instructions on the package to find out whether or not to pre-boil the sheets. Some of the sauce evenly on the sheet so that it is completely covered it.
Now all vegetables. Distribute them evenly over the sauce and close the next sheet of lasagna. Repeat 3-4 times. The last layer should be sauce to be sprinkled with grated cheese.
Shape cover with foil and bake in a preheated 180-190 degree oven for 30-35 minutes. Remove the foil for 10 minutes before the end to top formed a golden crust.