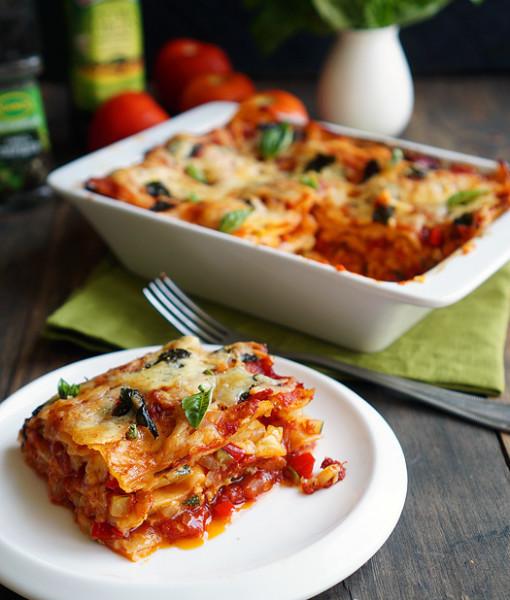 INGREDIENTS Vegetable lasagna: lasagna Sheets — 6 pieces
Sweet pepper — 1 PC.
Onion — 1 PC.
Zucchini — 1 PC.
Thick sauce — 300 gr.
Mozzarella — 100 gr.
Basil — 4 leaves
As you can see, lasagna is another designer on the basis of the sheets of pasta. We should master the basic principle and then you can experiment with flavors, layers, sauces, even at the height of the finished pieces.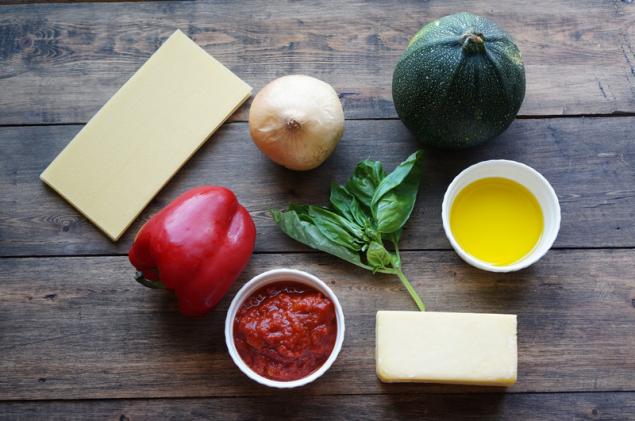 All the vegetables cut very finely, 5 mm. This is important because they cook faster, losing less flavor and health properties, and even lasagna will be stronger. Here I have one onion, one pepper and zucchini.
Heat in a pan olive oil, 50 gr. When oil is hot, put in the pan the onions and fry for 5 minutes.
The kitchen is almost immediately filled with the characteristic smell of olive oil, and, thanks to him, all the vitamins that the vegetables brought to us, absorb better and faster. To the onions, add the pepper, mix well and sauté for another 3 minutes.
And at the end add zucchini. Fry for 5 minutes.
While Dogaressa vegetables, grate coarsely 100 grams of mozzarella.
Now to the most interesting and creative process, Assembly. Best suited to rectangular and square shapes, ceramic and glass look good because the dish can be served directly in the form.
Brush with a thin layer of tomato sauce in the bottom of the form. Lay the first layer of pasta sheets. Pre-boil the leaves. There are only two important rules: each layer must be tightly covered with sheets, it is possible to break off the right pieces to close any gaps; all layers must be decomposed in different ways, it is necessary that the lasagna was falling apart, in other words, if one layer of leaves lies horizontally, the next vertically lay.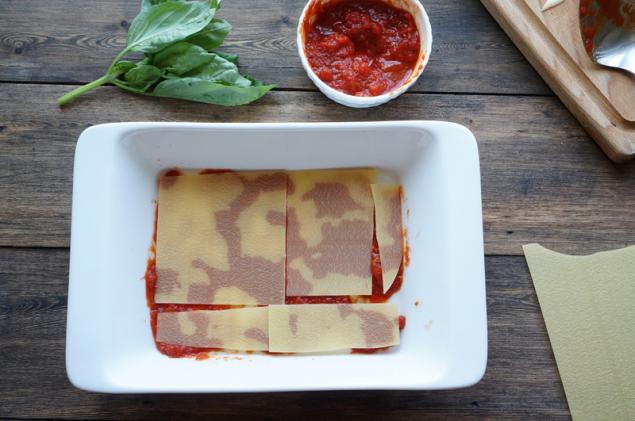 On top of the sheets again apply tomato sauce and put the fried vegetables and sprinkle generously with a layer of cheese.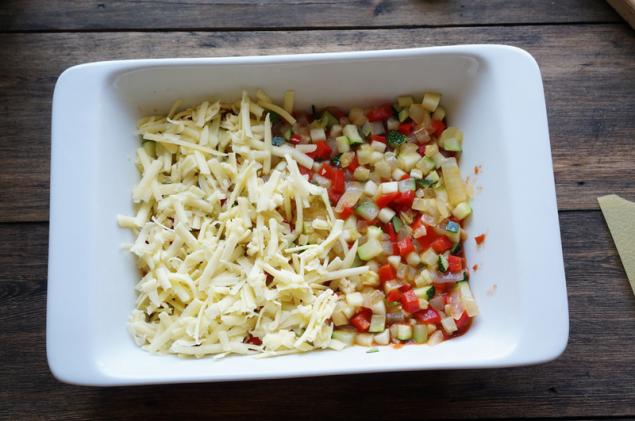 On top of the new layer of leaves and toppings. As a sauce you can use tomato, Bechamel, cream and so on, all to your taste. You can take ricotta.
The final coat should not completely cover the cheese, so that in the finished dish were visible pieces of vegetables, sauce. I love sprinkle with Basil leaves, it greatly enhances the aroma of the dishes. Bake in the oven at 180 degrees for 40-50 minutes. During this time, all layers are well joined together, the sheets of pasta will become soft and also soaked the taste of the ingredients.
Ready lasagne allow to stand for 10 minutes to make the cheese seized and sealed it. Serve with squares cut out of shape, but you can eat with a spoon out of shape. Again, feel free to add layers of ricotta, spinach, and so on. published  
P. S. And remember, only by changing their consumption — together we change the world! ©
Join us in Facebook , Vkontakte, Odnoklassniki  
Source: alice-in-wonderland.dp.ua/project/ovoshhnaya-lazanya/