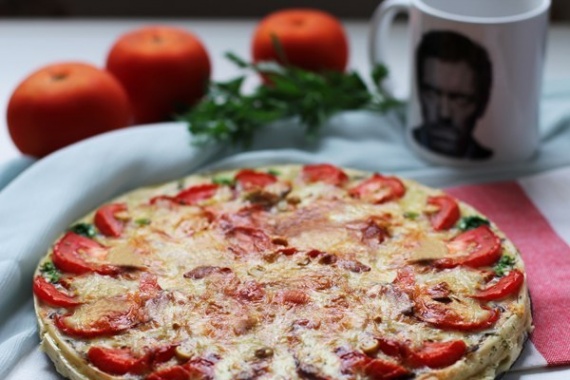 Ingredients:
Dough (puff, yeast) - 1 sheet
Mushrooms - 450 gr.
Cheese - 150 gr.
Onions - 1 pc.
Tomatoes - 2 pcs.
Eggs - 2 pcs.
Milk - 0.5 cups
Onions - 1 bunch
Dill - 1 bunch
Parsley - 1 bunch
Salt
Pepper
Preparation:
Roll out the dough and spread in the form (you can prepare the dough and buy ready-made), pre-greased.
Form a high boards (about 2-3 cm).
In the test with a fork over the entire area makes a hole.
Rub roughly half the cheese and spread on the dough.
Bake in the preheated to 170-180 ° C oven for 10 minutes.
Chop the mushrooms and fry onions until tender.
Then lay on top of the mushrooms baked with cheese dough. Salt, pepper to taste.
Finely chop the herbs and spread on top of mushrooms.
Tomatoes cut into thick rings not, cut them in half and cover them greens. Season with salt.
Beat eggs, add milk - stir.
The remainder of the cheese rub and add to egg-milk mixture. Salt and pepper to taste.
The resulting mixture is poured over a tomato and bake in a preheated 180 ° C oven for 35-40 minutes.