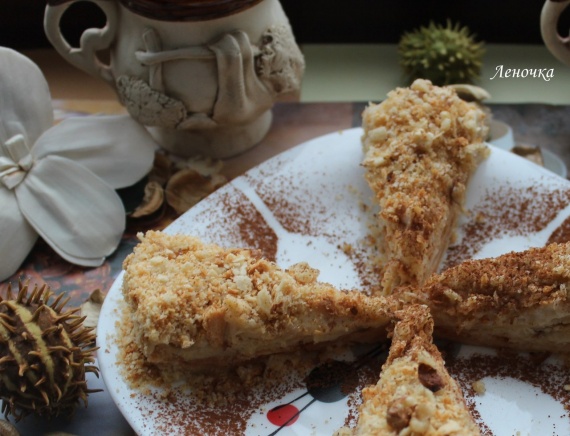 Napoleon with butter cream I prepared repeatedly, it was the turn to try with custard. I can not say that any of them was tasty, delicious both with custard easier and less caloric.
Dough: 250g butter or margarine, 2 ½ cups flour, ¾ cup chopped water.
In a separate beaker to mix 1 egg, 1ch.l. vinegar, on the tip of teaspoon lemon to-you.
Rub the dough, put into the cold, to 2 hours.
Baking: Divide dough into 9 pieces, roll out thinly on a floured table, cut on a plate, prick with a fork and bake in the oven until golden brown at 220C for 10 min Remains test also bake and then used for dusting. Each finished oil cream cake, the sides of the cake, too, spread cream, sprinkle with breadcrumbs and put in the cold for at least a night for impregnation.
Cream custard:
milk 2 cups
sugar 1 cup
egg 2pcs
3 tablespoons flour
butter 150g
vanillin
Grind the eggs with sugar and flour, add the vanilla, pour the milk, whisk to mix and put on a slow fire. Cook until thick, stirring constantly.
Beat the butter and add the cream, whip again, I have added a banana (this is optional). Try, whether enough sugar, if necessary add.
Enjoy your meal!