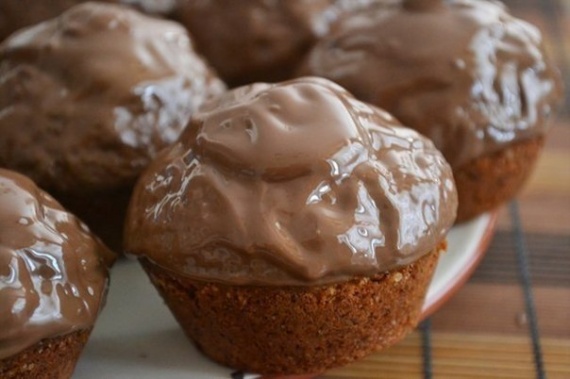 Ingredients (9 pieces):
 - Wheat flour - half cup
 - Bananas - 2 pieces (or one large)
 - Cane sugar - 1/4 cup
 - Sugar white fine - 1/4 cup
 - Egg - 1 piece
 - Butter - 50 g
 - Baking powder - 1 teaspoon
 - Tile milk or dark chocolate
Preparation:
Put butter in the microwave, turn it on, so it was soft. Pour oil on the two types of sugar. You can take only one of these species. Does not matter. It's just that amazing smell of cane. We'll get out of the box egg. We divide into the same bowl and mix well. Sift the flour is added thereto together with baking powder. Mix thoroughly.
Peel the bananas and place in a bowl. Mash with a fork or other means at hand. Mix the bananas with the dough. If you feel it is a liquid, you can add more flour. Put into a mold. Bake at 200 C for about 30 minutes. Smash chocolate bar and add to the bowl.