< Dessert with chocolate - this is a classic. Fine sweetness can brighten even the most overcast day and create a festive mood!
Chocolate desertyPredlagaem you 4 original recipe, which can be from the heart to pamper yourself and loved ones. Chocolate masterpiece prepare not less pleasant than to try! Choose any, will not lose.
Fondan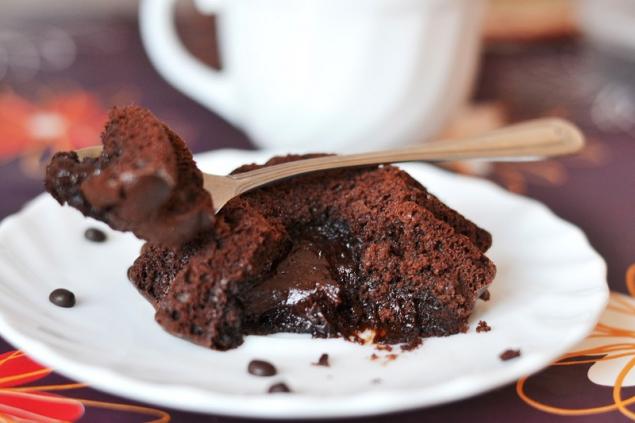 Ingredients
90 g of dark chocolate
2 eggs < 65 g butter
75 g sugar
40 g of flour

Preparation

On the water bath melt the chocolate, add to it chopped butter. Wait until the mixture is smooth.
Vzbey sugar with the eggs to a froth, add them to the chocolate mass. This also add the flour, stir everything thoroughly.
Brush the muffins tins with butter, fill them with chocolate mass by 3/4. In a preheated 190 degree oven Place the tins and bake dessert for about 15 minutes. The edges of the fondant should be seized to form crisp, middle, and - remain liquid

Pie maskarpone




Ingredients

200 g of dark chocolate
200 g butter
5 eggs
140 g of flour
500 g of cheese li mascarpone>
1 h. spoon of vanilla extract
1 h. spoon of baking powder
200 g sugar
200 g red currants

Preparation

Sift flour with baking powder. Butter, and the chocolate is melted in a water bath. . Vzbey in the lush foam 3 eggs and 150 grams of sugar
Continuing to whisk eggs with sugar, gradually add the melted chocolate and flour with baking powder - 1 tablespoon. Watch the dough obtain uniform.
Vzbey mascarpone with two eggs, the remnants of sugar and vanilla extract.
Brush the split mold with butter, flour prisyp. Put a layer of chocolate, mascarpone layer and another layer of chocolate.
In a preheated 180 degree oven Put the form on the hour. Willingness to verify the cake with a toothpick.

Layered chocolate tort




Ingredients

2 tiles of dark chocolate < 3 eggs
200 g butter
200 g brown sugar
100 g of flour
1 tbsp. spoon of cocoa powder

Preparation

Melt chocolate and butter, let the mixture cool slightly.
Vzbey eggs with brown sugar, add the egg mass in the melted chocolate. This also add 1 tbsp. spoon of cocoa and 100 g flour.
Cover the form of parchment, pour into it the chocolate mass. Put in a preheated 180 degree oven and bake for about 25 minutes.

Muffin with shokoladom




Ingredients

300 g dark chocolate
125 g butter
260 g of flour
1/4 h. spoon of baking powder
1/4 cup cocoa -poroshka
1/4 cup brown sugar
185 ml of milk
2 eggs
3 chopped candy bars Mars < /

Preparation

Melt half the chocolate and butter in a water bath to cool. Sift flour with baking powder and cocoa.
Vzbey eggs with milk, add them to the melted chocolate and flour.
Fill molds for cupcakes dough, bake muffins for 20 minutes at 180 degrees. For an elegant decoration use the chopped chocolate bar and melted chocolate.

A cup of fragrant green tea with lemon or coffee with cinnamon - a great addition to these tempting desserts. Tell us in the comments which one you like the most!